2014 Badwater 135 Ultramarathon Race Report
Crossing the Badwater 135 Ultramarathon finish line was a goal five years in the making. When I ran, especially when I ran long, I often thought about someday crossing the finish line at Badwater.
I first really learned about Badwater in 2007 from my friend Chris Bergland, when I got to know him and read his book: The Athlete's Way: Sweat and the Biology of Bliss. I have to admit that at that time it didn't even sound like something real.
So the dream actually started in 2009, when I crewed for Blake Benke during his second Badwater race. At that time, I'd never run a 100 mile race. I'd run one 50 mile race and was training for my third Ironman. I was planning to run more ultras, but was definitely still an endurance newbie. But by the time Blake finished, I knew that I'd run Badwater some day. In fact, at the race finish line, I told Badwater race director Chris Kostman that he'd see me at the Whitney Portal finish line in five years.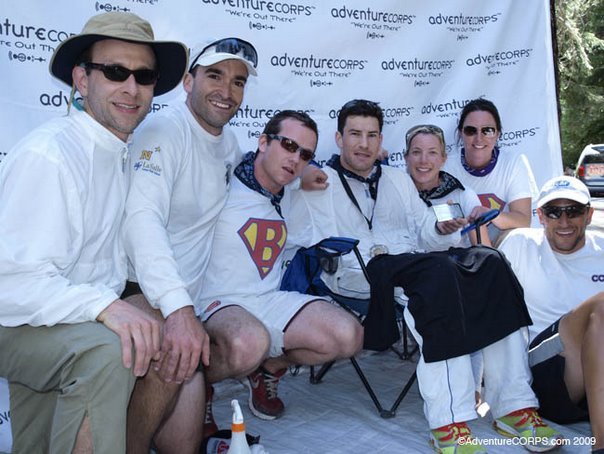 Crewing for Jimmy in 2010 only made me want it more. At that time, I was actually training for my first 100 (Angeles Crest 100), but I knew my running resume still had a long way to go.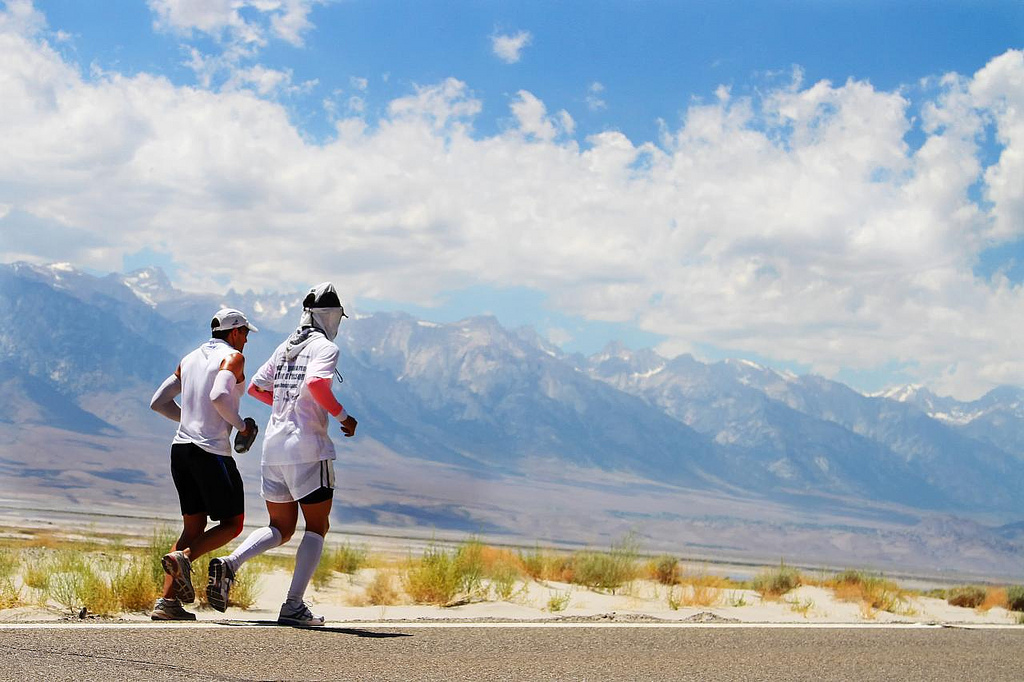 (photo: Gareth Mackay)
Then last year, 2013, I crewed for Ray Sanchez and spent five days with a group of Badwater veterans and got to live the Badwater experience as a crew member for a third time; I walked away hoping that 2014 would be my year. I finally had the basic requirements on my resume and hoped that one more 100 (Run Rabbit Run in September) plus Brazil 135 in January 2014 would help my application get through the selection committee.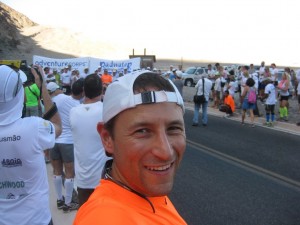 So in January, hot on the heels of my race at Brazil 135, I submitted a Badwater application and held my breath. And I got in. And then I trained. And I trained. And I trained. I figured it would be the hardest race I'd ever done and I did not want to show up at the starting line in Lone Pine on July 21 wishing I'd done more. Those months went by very quickly and really before I knew it, I was there in Lone Pine checking in for the race with my crew.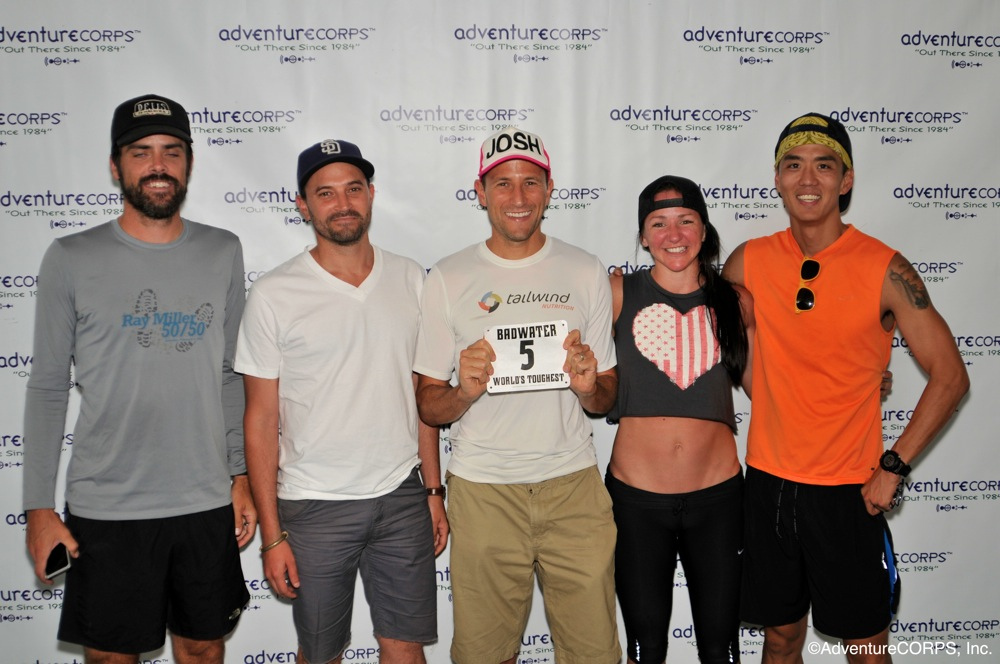 And then we were organizing our minivan on Sunday evening with 14 hours to go until the race. I was exhausted and slept well the night before the race.
Being selected to start in the 8am wave meant that I could wake up naturally at 5, eat my breakfast and get back in bed for a short nap. At 7:15, I was fed, lubed (thanks Trail Toes!), dressed and ready. My crew and I walked over to the start, which was about three blocks from the Dow Villa Hotel.
There was a ton of activity at the start, photos, interviews, tons of support crew, family, friends and race officials.
Happy runner and crew: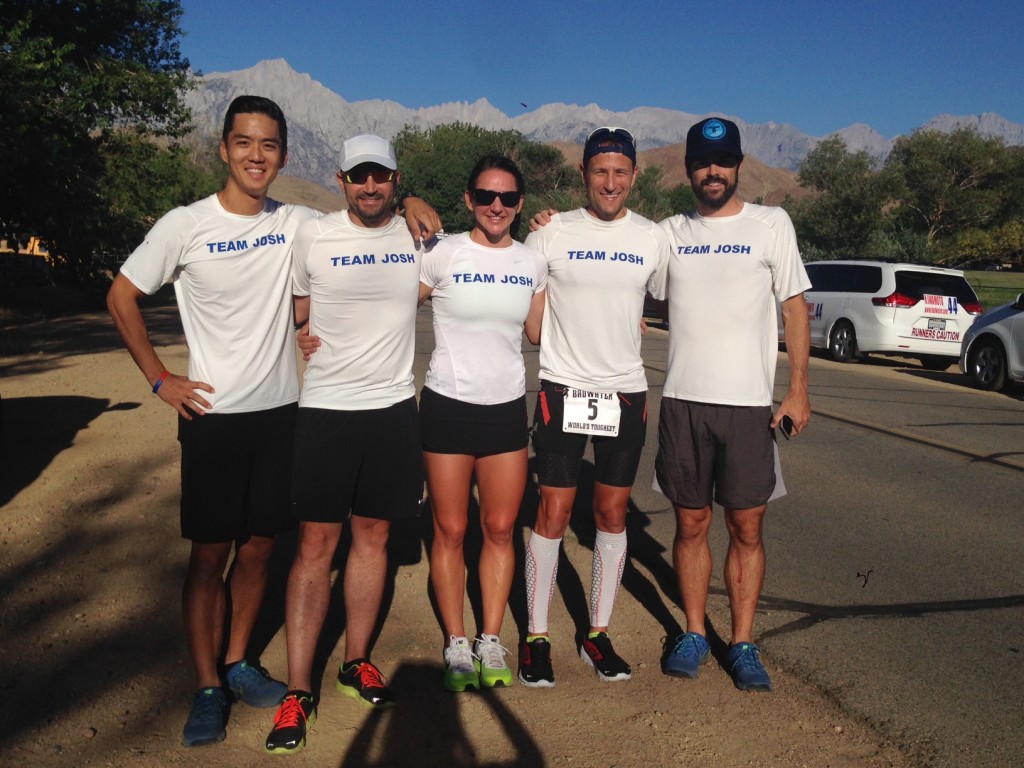 (photo: Elizabeth)
Game face (?) runner and crew: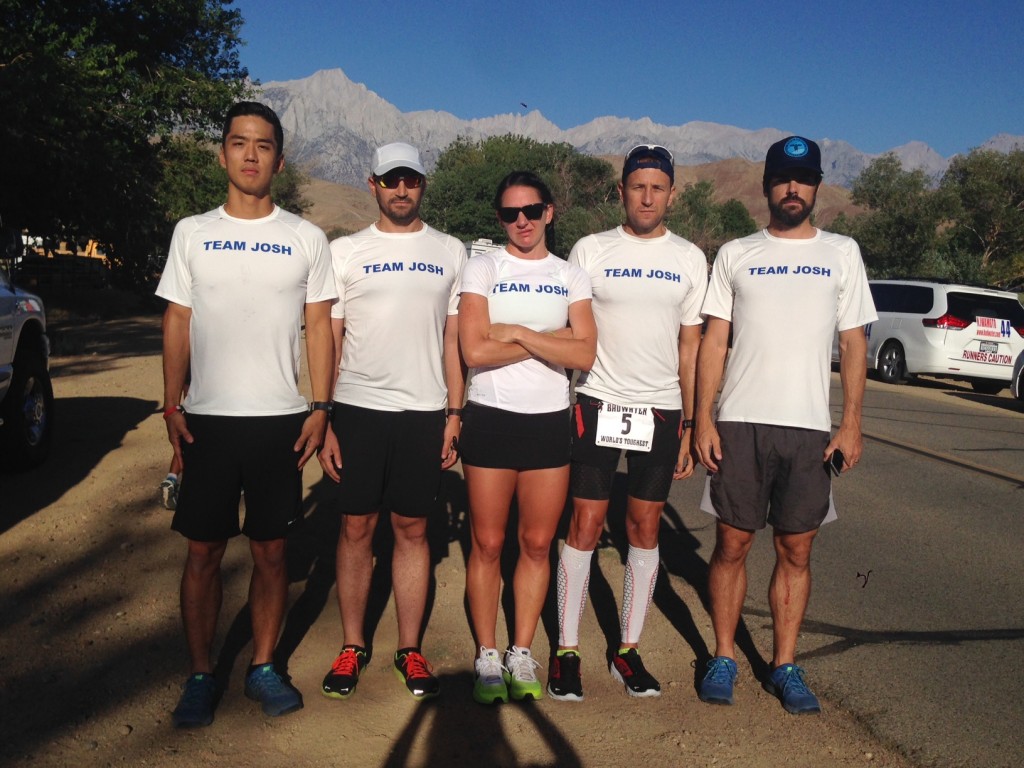 (photo: Elizabeth)
Early celebration runner and crew (BTW: How rad are those shirts?! Thanks Elizabeth!):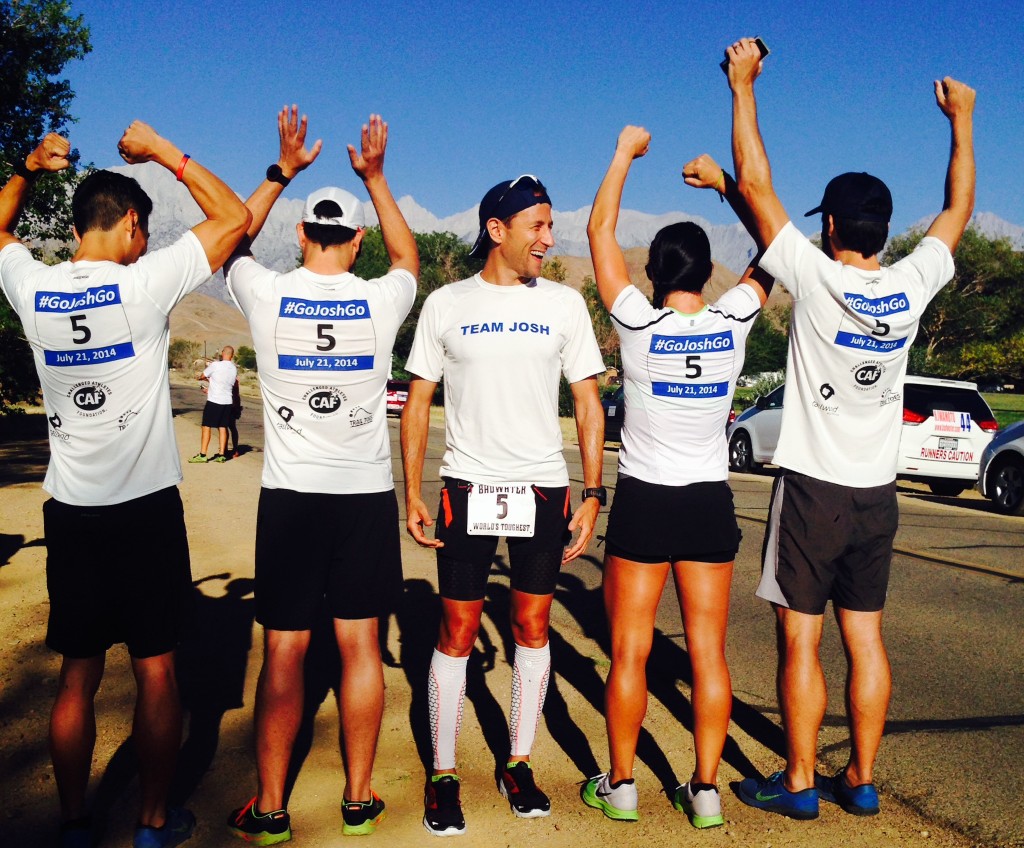 (photo: Elizabeth)
Goofballing: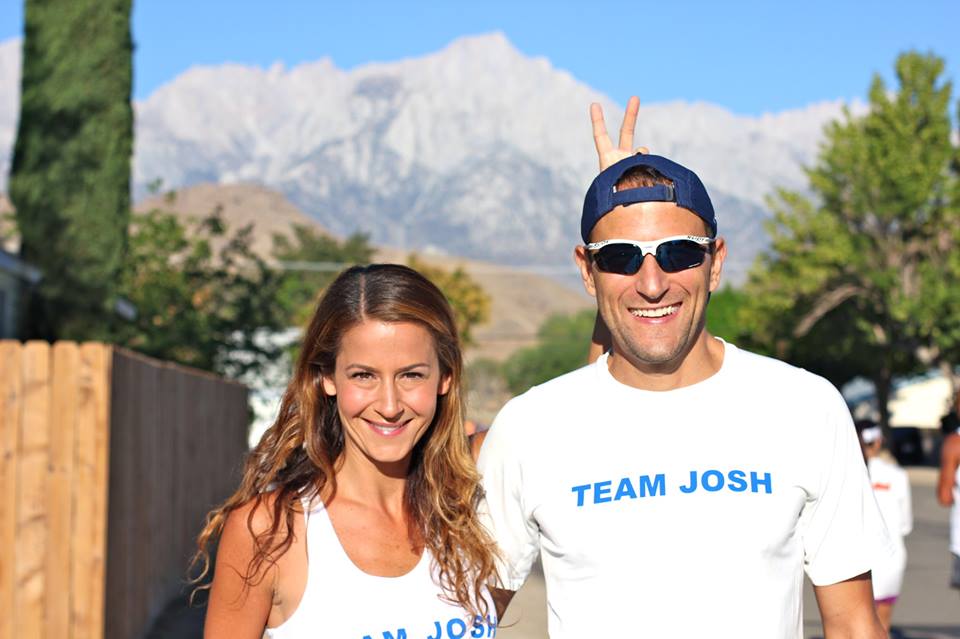 (photo: Billy)
Very serious interview: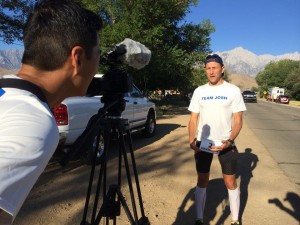 (photo: Colin)
After weighing in (160 lbs), I hung out with my crew until Chris Kostman called the runners to line up in front of the race banner for photos and the National Anthem.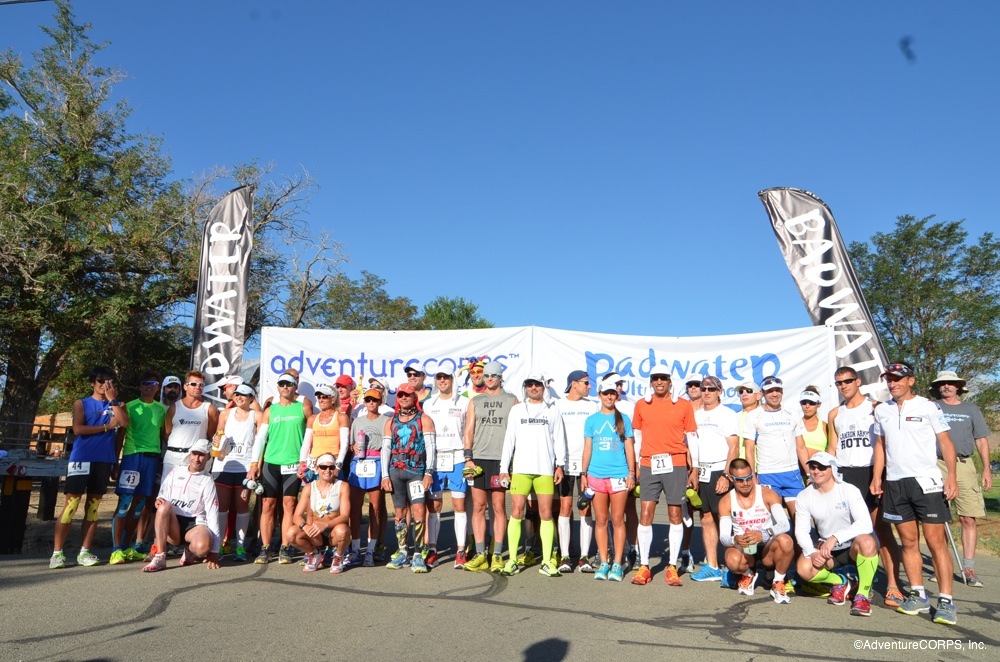 (official Badwater photo)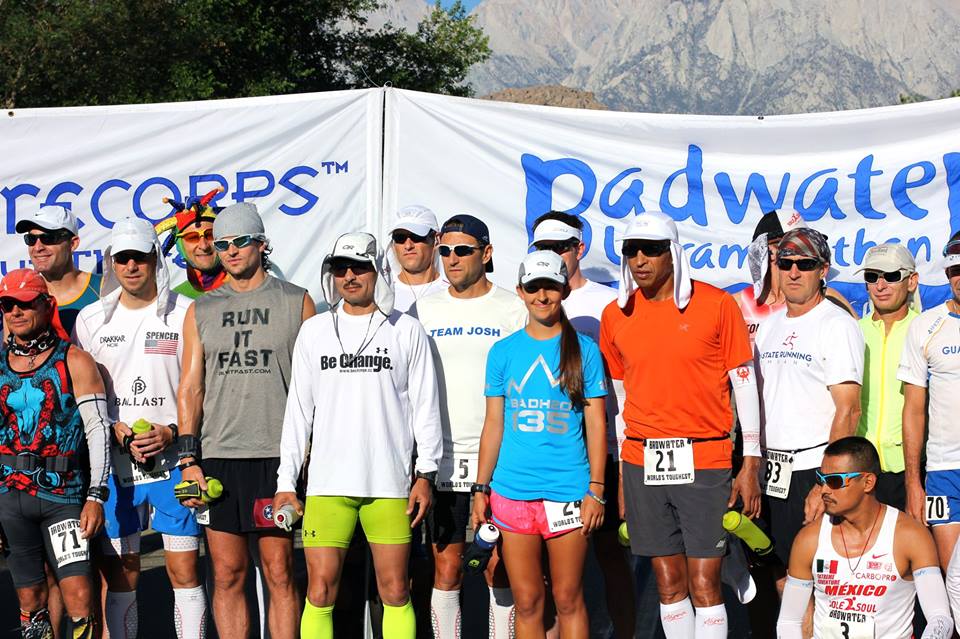 (photo: Billy)
Standing there, looking at the crowd, thinking about the training I'd done to get me there and the challenge ahead of me, as soon as the National Anthem started playing, I felt my eyes tear up. (The first of three times I would get teary-eyed in the next 33 hours.) I was excited and nervous and grateful. And I was just so damn proud to be standing where I was. At precisely 8am, Chris sent us off. The first 23 miles are the climb from Lone Pine up to Horseshoe Meadows, it's a steady climb with about 5,800 feet of gain. I ran and hiked it smooth and steady.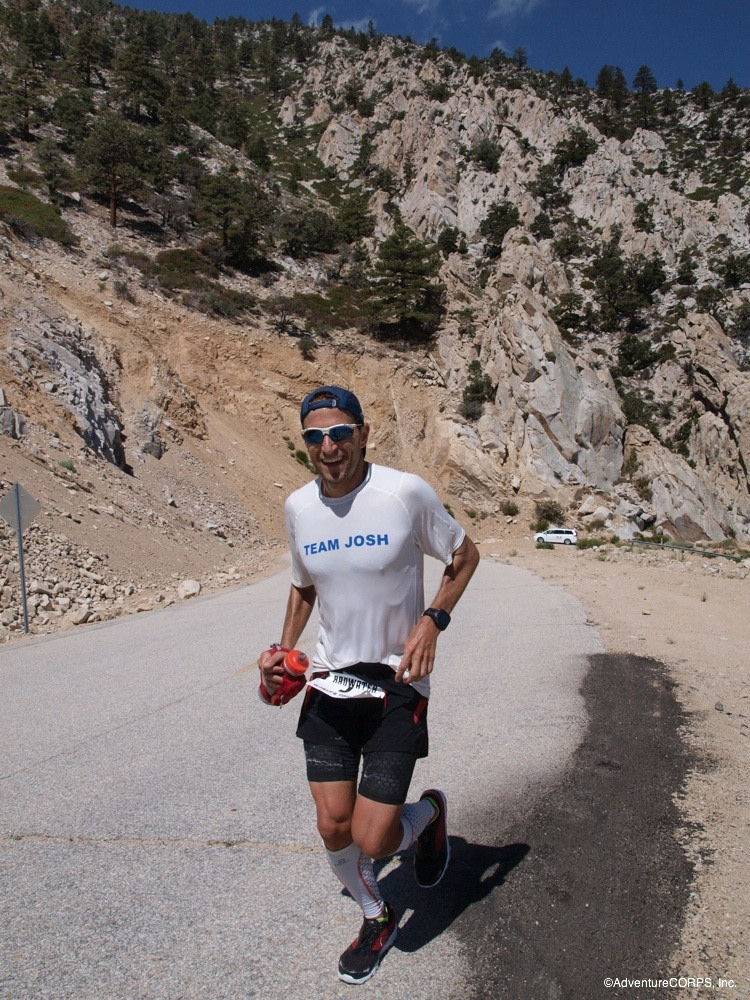 At various times during the climb, I ran and talked with Maggie Beach, Gavin Woody, Craig Wheeler and Joshua Holmes. I saw my crew every couple of miles and focused on moving at a consistent pace and sucking down bottles of Tailwind and cups of cold water (they had me chug a cup of water at pretty much every aid stop). The climb went really well. I checked in at the time station at the top of the climb at 12:33pm (4:33 elapsed) which was 30-60 minutes faster than I expected to do it. In some cases I would have been worried that I went out too fast, but I think I paced this climb just about perfectly. At the top of the climb, I swapped my Skechers GOrun 3's for a pair of Hoka Bondi B's, figuring that I'd be thankful for the extra cushioning on the descent.
From there, we turned around and headed right back down, 23 miles back to Lone Pine. Going into the race, this was the section of the course that worried me the most. I know that I'm not the best descender and also knew that pushing it here could really wreck the rest of the race. So I ran down careful and easy. I kept my stride short and focused on landing light on my feet. I took some walk breaks that I didn't "need" just to slow myself down a bit and take a little pressure off my joints from time to time.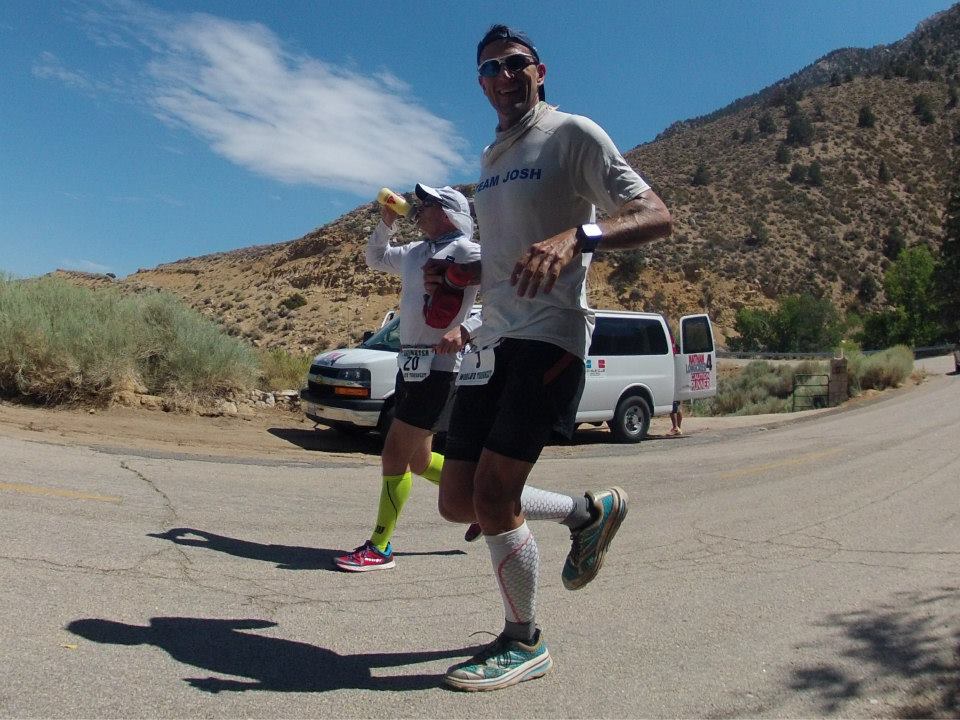 (photo: "Badwater" Ben Jones)
I ran a lot of the descent with Gavin Woody and he – and his sister and brother-in-law crew – were great companions. That's one uniquely fantastic thing about this race: you spend long stretches of time with or around other runners and their crews are constantly doing drive-by's leapfrogging you. A few runner's crews – Gavin's, Andy's, Amy's, Joshua's, Nikki's in particular – were around me a ton during big sections of the race. And I felt like I got to know them. It was exciting to see them pass by or for me to run past their parked vehicle and get a quick hello and cheer. In addition to your own crew, you have these additional cheering and support squads throughout the race. It kept me engaged and excited and seeing them always brought a smile to my face. At around mile 40, the course flattens out a bit before the final descent into Lone Pine. It was mid-afternoon and being back down around 4,500 feet, it felt pretty hot. For the first time in the race, I started to feel the miles. I was also strangely very alone during this section. There's a four-ish mile section from the beginning of the race until mile 4 and again on the way back down (from mile 40-44) where no crew vehicles are allowed. The road is narrow and windy and it would be very dangerous for cars to be there. So for the first time in a long time there were no support crews around, but there also weren't any runners near me. Since the road is windy, I couldn't see anyone ahead or behind. I think this accentuated the tiny struggle I was having to stay motivated. I made it  into Lone Pine (arriving at the Dow Villa at 4:23pm, or 8:23 elapsed), but being in the heat and on flat roads didn't feel great. I was walking more than I'd hoped to and my stomach started to feel "off".
But on the bright side, I got to see Elizabeth when I passed by the Dow Villa. As our 5th "crew" member, she was stuck in Lone Pine for the entire race, acting as crew-for-the-crew. I was really happy to see her for a couple seconds. Off I went down 395 out of town towards the 136 turn-off. I figured I'd be back sometime the next day, late morning or early afternoon. The 16 mile stretch from the Dow Villa to Keeler at the bottom of the Cerro Gordo climb was tough. I was hot and had very low energy. I didn't want to run. This section is mostly flat and I had hoped to mostly do easy running through here. I ended up walking way more than I wanted. A cause for additional concern was the fact that my plan had been to eat some "real" food during this stretch to supplement the Tailwind bottles, but I couldn't stand the thought or sight of anything. My stomach wasn't "upset" but the thought of food made me want to gag. I was still drinking a decent amount of Tailwind and water, but I'd pretty much stopped peeing. I tried taking small bites of some of the food I brought but struggled to get even those small bites down and really just gave up on food altogether. I knew I was getting in a minimum amount of calories with Tailwind, but I also knew that I needed more than the minimum. I was worried that if the race continued like that, I was screwed. Colin, Sally and Aaron each walked and ran with me for a bit, keeping me moving forward and trying to get me to eat. They each kept reassuring me that it was just a low-point; everyone has them and I would get through it.
I got to the Keeler time station at the start of the Cerro Gordo climb at 7:43pm (11:43 elapsed). I knew this climb was going to be ridiculously hard, but I was actually looking forward to it. I hadn't been having much success running and I knew I wouldn't run much (if any) of the 7.5 mile/5,000 feet of elevation gain climb. I'm a good hiker and a successful hike would take some of the psychological pressure off. Also, I knew it would be cooling down as the sun set. I figured this 15 mile section would take me between 5-6 hours. While Billy and I were here, my crew would go back to Lone Pine to eat and get the van reorganized and re-supplied.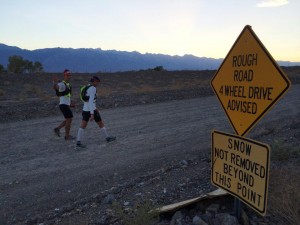 (photo: Colin)
After changing and getting my pack ready, Billy and I started up this climb just before 8pm. The way I remember it, we hiked at a pretty steady, consistent pace. Since Cerro Gordo is a relatively long (time-wise) out and back, we got to see tons of other runners. About 20 minutes into the climb, we started seeing the front guys and from then on it was a fairly consistent flow of runners coming down. Many I recognized, some I couldn't see well enough in the dark. We got to the water stop five miles into the climb and I sat for a minute or two while Billy filled up our bladders and bottles. Then we started on the last few miles, which are steeper than the first part. We made it to the top at 10:51pm (14:51 elapsed) and again, I sat for a couple minutes. We had been warned that it was cold at the top, but the temperature felt really comfortable actually. If I had sat any longer, I'm sure I would have started getting cold and a reminder about this from the guy working the timing station helped get me up and get moving. The hotel/checkpoint at the top of Cerro Gordo is pretty much the half-way point of the race, but it felt better than that because after climbing Cerro Gordo, I felt like I could do pretty much anything!
The descent from Cerro Gordo was fun. Not as fun as when Billy, Colin and I did it during training, but still more enjoyable than any running I'd done in six or seven hours. I was able to run most of the way down. I was still consistently sucking down bottles of Tailwind and during this section had actually been able to stomach a little other food. And another strange thing happened – I started peeing again, which was great, but once I started, I couldn't stop. I would drink some water or Tailwind and pee (a lot), then 20 minutes later, I would have to pee again. This went on pretty much all through the night. I probably "lost" 30 minutes during the night stopping to pee! Good problem to have, but not something that had ever happened to me before. We got back to Keeler at the bottom of the climb at 12:29am Tuesday morning (16:29 elapsed). I was 75 miles in, 60 miles left to go. It was a bit shocking how much better I felt here than I'd felt 30 miles ago. I sat down here and had soup, seaweed and avocado – a pretty big meal actually. I changed socks and re-applied Trail Toes.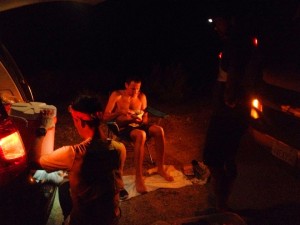 (photo: Sally)
I don't remember much of the next section – 16 miles gradually uphill (~1,400 feet of gain) to the Darwin time station turn-around. Aaron and Sally split the pacing duties on this section. Both of them kept me moving pretty well. We got into a decent run/walk rhythm – timing each run and walk segment. Playing this "game" of counting off the seconds for the run and walk segments kept my mind occupied and kept me moving pretty well. It was a beautiful night – for most of the way we couldn't see the moon, but there were tons and tons of stars. About half way to Darwin, we did finally get to see the crescent moon. It had been hiding behind some mountains and when it popped out, it looked amazing. A few miles before the turnaround, I really wanted to sit again, but thankfully Sally wouldn't let me. Instead, we pushed on and arrived at Darwin at 4:55am (20:55 elapsed). At Darwin, they finally did let me sit. I took off my shoes and cleaned up and dried my feet and ate another thing of soup. Colin got an amazing picture of me and the sunrise here: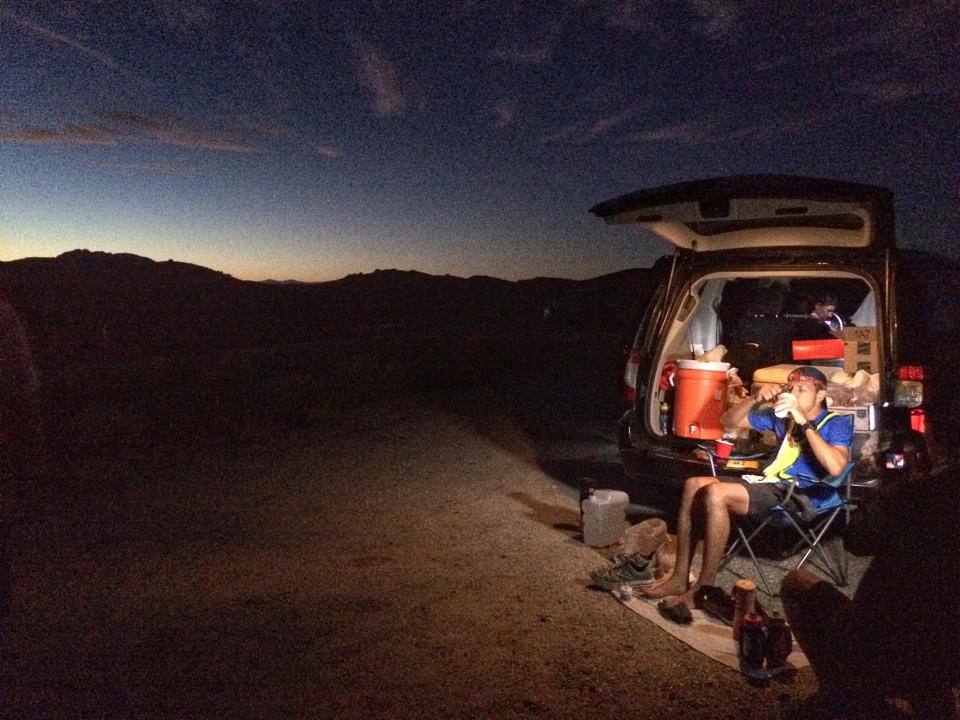 The way back down from Darwin went really well. These were my best miles of running in a very long time. I was able to run for relatively long stretches at a time without any need for games or much encouragement from my crew. The sun was coming out but the temperature was still comfortable. I hit the 100 mile mark (on my watch) at 23 hours and about 20 seconds. If I'd stopped just one less time to pee, I would have been well under 23 hours. Either way, it was a new 100 mile PR! At this point, I knew I could break the rest of the race down into sections – 9 miles back to Keeler, 13 miles to the Dow Villa and 13 miles to the finish. I could see Keeler ahead of me and with the way I'd been running, I figured I'd be there in no time. It looked like it was just up ahead, but that damn desert plays tricks on your eyes and it just wasn't getting closer. One strange thing about this part of the race was that my crew and I were mostly alone. For pretty much all of the race up to this point, there had been a bunch of other runners and crews around us. Out here on the road into Keeler and beyond, it was really just us for as far as we could see. There was one runner behind us but no one out in front. Somewhere around here I started getting sleepy for the first time all race. A half bottle of 5 Hour Energy changed all that! The sun was beating down and it started getting hot. My crew got the spray bottles and sponges and ice bandanas out and kept my clothes wet and me cool. I begrudgingly put on a long sleeve shirt to keep some of the sun off my arms.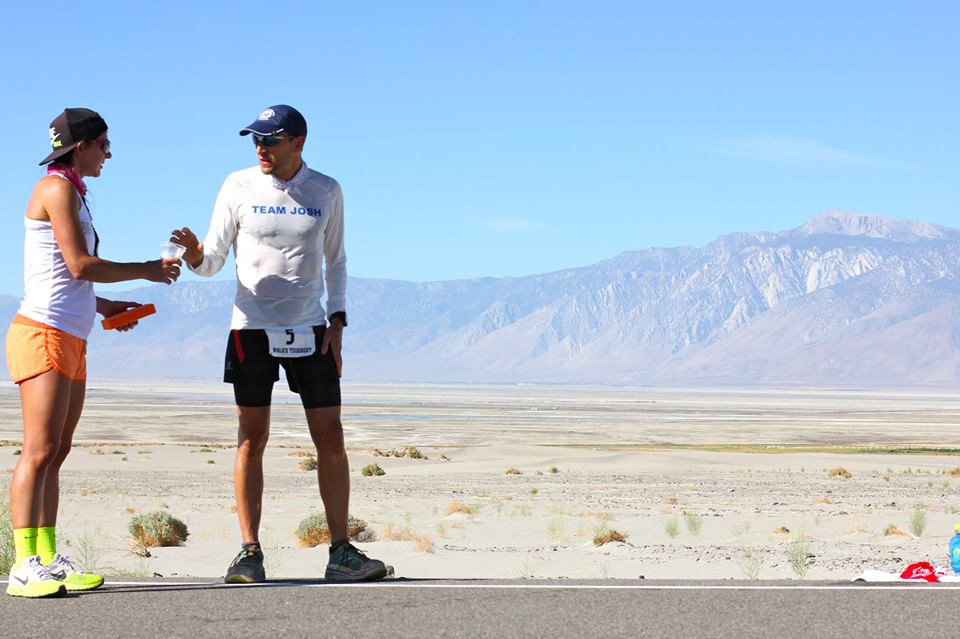 (photo: Billy)
I got to Keeler (mile 109ish) and just kept moving. But now that we were back on flat road, I started slowing down again. Also, there was something going on in my right arch. It hurt when I landed on it – felt like there was a peach pit in there under my skin. It hurt a bit to run, but I was trying to put it out of my mind. Thankfully, other than that pain, I felt much better than I had during this section on the way out. I kept chugging along with my crew taking turns pacing me. I could see both the Horseshoe Meadows road (where I'd come from) and the Whitney Portal Road (where I was headed) off the in distance. They seemed very far away.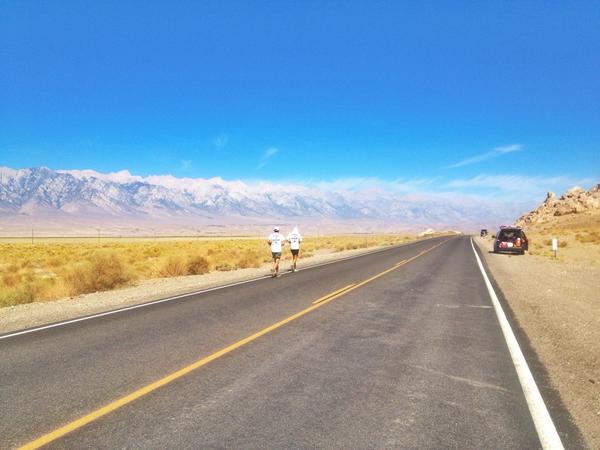 (photo: Sally)
Between here and the Dow Villa (mile 122), I focused on running and drinking Tailwind. It was getting harder to run and my crew got back into cajoling-mode. Many times when I approached the van, I would stop to walk for the aid. There were times however, when I just ran right through. Those all felt like victories to me. I got back to the Dow Villa at 12:03pm (28:03 elapsed). Elizabeth was there waiting, which was a very welcome sight! It was "only" 13 miles to go, but I'd paced and crewed those 13 miles before and I knew that it was a very very long 13 miles. So I took my time to physically and mentally get ready for the rest of the race. I went to the bathroom, then Elizabeth and Sally helped me cover one small blister with tape, re-apply a bunch of Trail Toes, change socks, and put the Hokas away to go back to Skechers.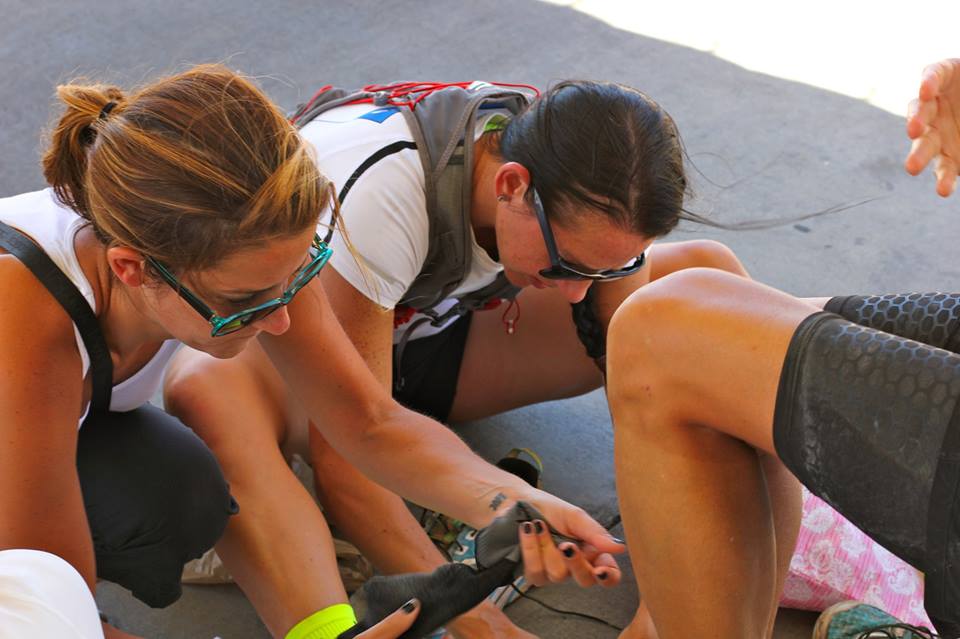 (photo: Billy)
I think I ate a little "real" food too. I spent probably 15 minutes at the Dow Villa and while that might seem like wasted time, I'd call it a wise decision. And then we took off to climb the mountain. Sally was my pacer for the first part of this climb. We tried to run a bit (30 seconds on) but running was a struggle and since I was hiking pretty well, we decided I would just hike. It was difficult, but I was moving with purpose and the miles actually seemed to go by fairly (relatively) quickly. I was going back and forth with the only runner near me, Federico Sanchez from Mexico. He was running more of the climb than I was, but also stopping regularly at his crew vehicle, which allowed for the yo-yo. Somewhere around here, Elizabeth drove past us one her way up to see me at the finish. At one point while we were hiking up I heard a somewhat familiar voice and there was a group of four people standing on our side of the road shouting. I couldn't really see them or make out what they were saying. Sally asked me if I recognized the voice and I think I said something like "It sure sounds like Jimmy but it can't be him." You see, Jimmy Dean Freeman would have been on my crew but he's in the middle of this "Original 6 Hundo Challenge" (f/k/a The Last Great Race) this summer and he had run the Vermont 100 (the third of six in the series) just two days before Badwater. I knew he wanted to be out at Badwater supporting me, but also knew that he wasn't planning to come. As we got a little closer, it sounded and looked more like Jimmy. And Jack. And Sawna and Ta'Mara. And they were holding signs that said "#GoJoshGo". I was so happy – and shocked – to see them!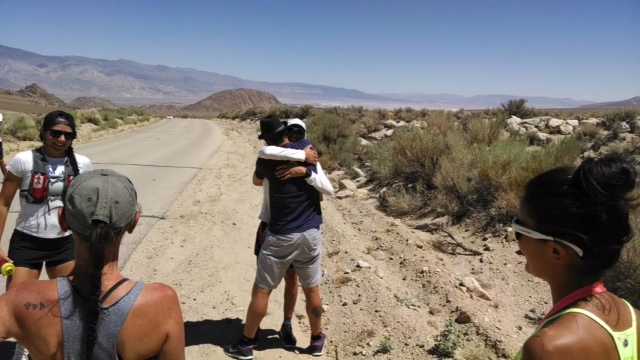 (photo: Jack)
I hugged them all and this was the second time I got teary. They had driven up from LA that morning just to hopefully catch me during the race. Amazing friends. Colin took over pacing duties around the switchbacks and then Aaron took over with a couple miles to go. He was going to take me to the finish. There weren't any runners from the 8am wave really close behind or ahead of me and since Federico had started at 7am, I knew that pretty much no matter what, I would finish ahead of him in the overall standings. So I didn't feel much sense of urgency – other than a "need" to just be done. But then with about four miles to go, I realized that at my current pace (18-19 min/mile), I would finish the race just a couple minutes after 32 hours. Sub-32 would be nice, but my inclination was "fuck it, what difference does it make?" But Colin said something that stuck with me: "Would you rather have a finish time that starts with '31' or '32'?" This stuck in my head and I couldn't stop calculating the distance left and my pace and trying to determine if I could go sub-32. As Aaron and I approached the one-mile-to-go point, Sally, Colin and Billy were waiting there to crew me one last time. I didn't need anything and wanted them to get to the top to be ready to run me in. At this point, I had one mile and something like 19 minutes to go to beat 32 hours. I told Aaron that we were going to run it in. And run we did. The last mile has two switchbacks and has something like 500 feet of gain. I am very proud to say that Aaron and I ran nearly every step of that final mile. My crew was waiting about 100 meters from the finish line and we got to them much more quickly than they expected.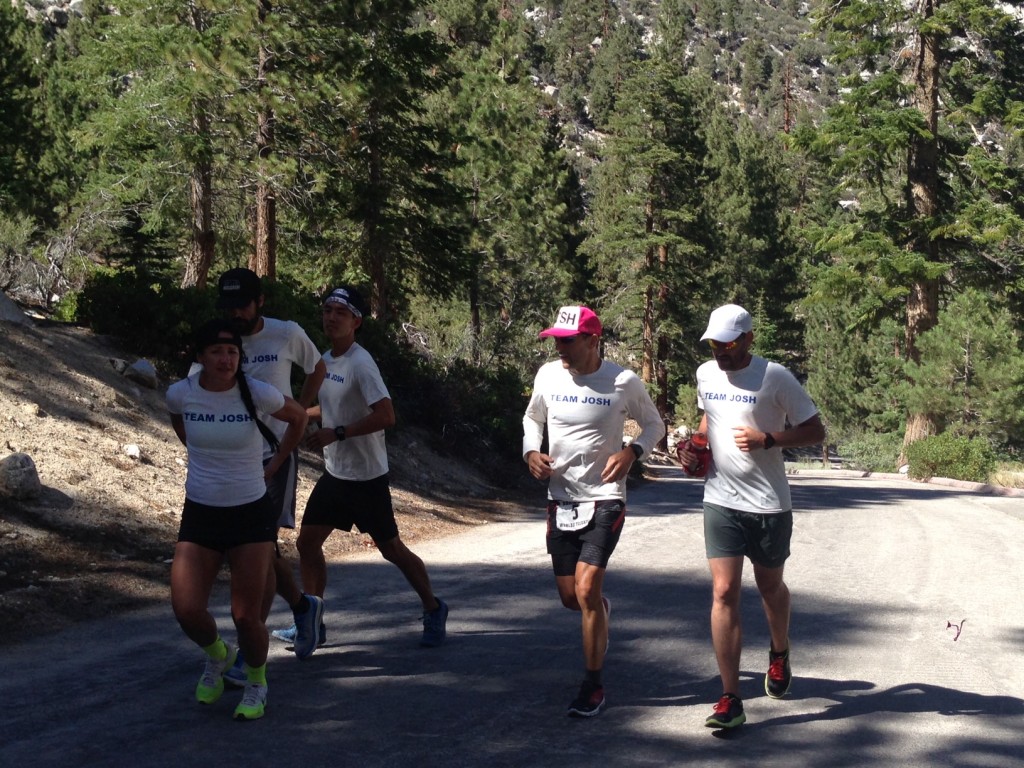 (photo: Elizabeth)
A few feet later, Elizabeth joined us and we all ran it across the finish line!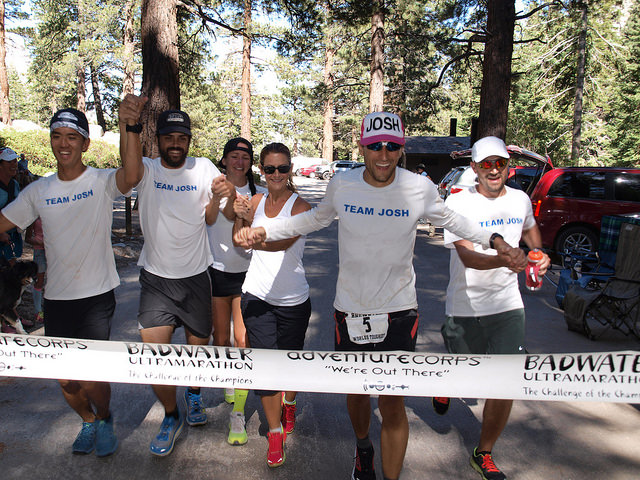 (Badwater official photo)
The finish line at Badwater isn't like any other finish line I've ever seen. Chris and his team of 6-8 are there and that's about it unless there are a few other personal spectators there. For me, that was Jimmy, Jack, Sawna and Ta'Mara. But it felt like there were 1,000s of people. All that time out on the course in the heat without sleep must have made me delirious.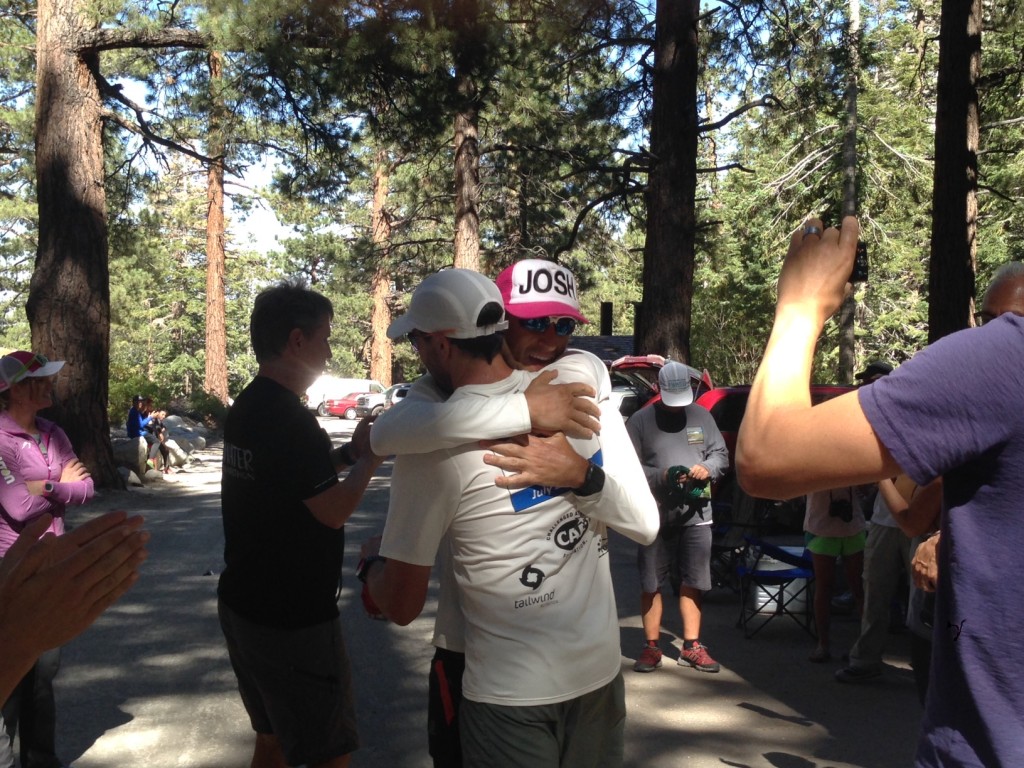 (photo: Elizabeth)
I finished the race in 31:55:07, nearly four minutes ahead of that sub-32 hour goal. That ended up being good enough for 18th place out of 97 starters and 83 finishers.
Immediately after finishing and having hugs all around, I took my finisher photos. While taking those photos I started thinking about everything I'd done and all the support I'd had while doing it – that was the third time I got choked up. I'd been thinking about that finish line and those finisher photos and that buckle for 5 years. And now they were all mine!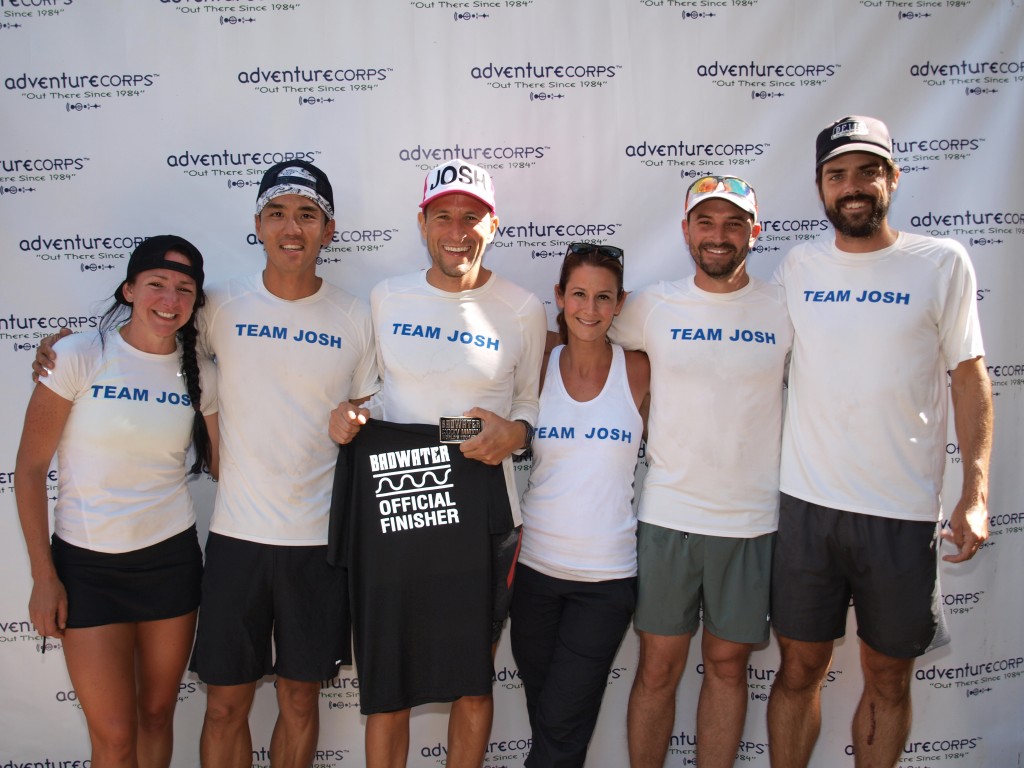 (Badwater official photo)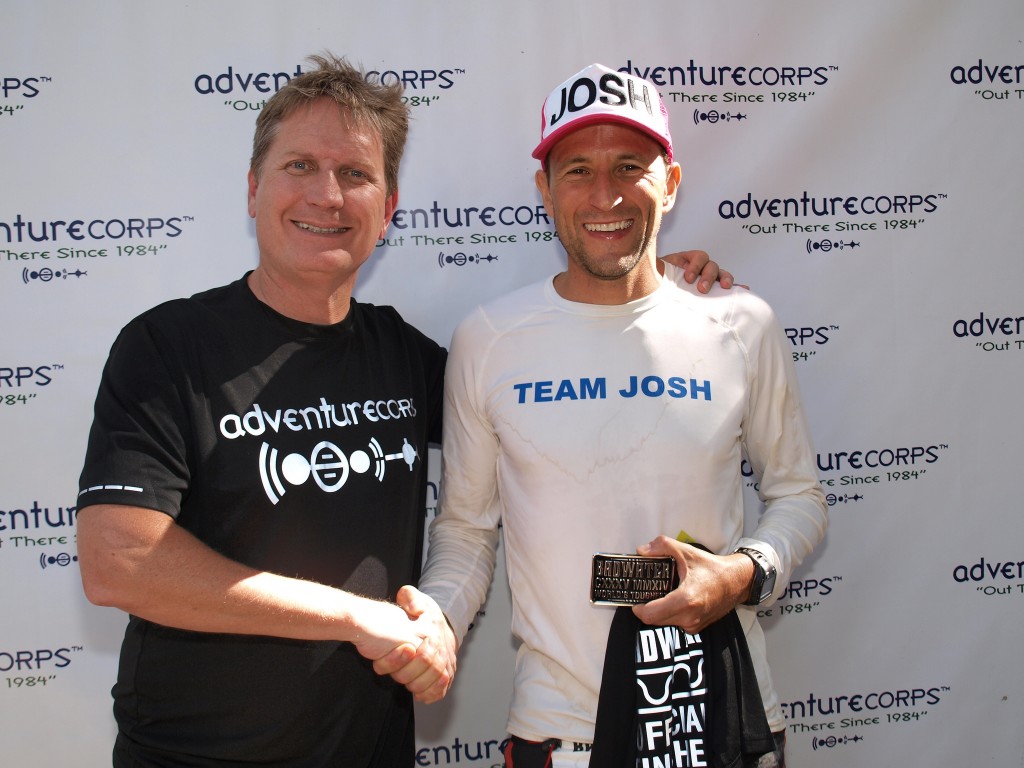 (Badwater official photo)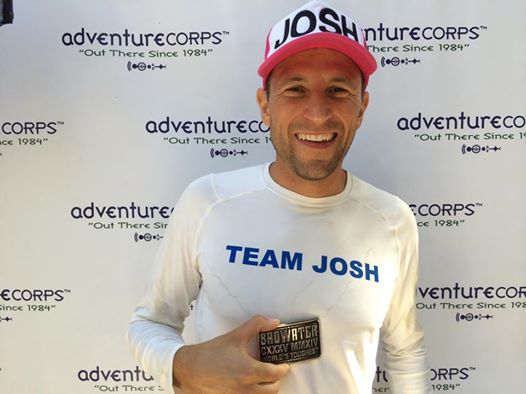 (photo: Colin)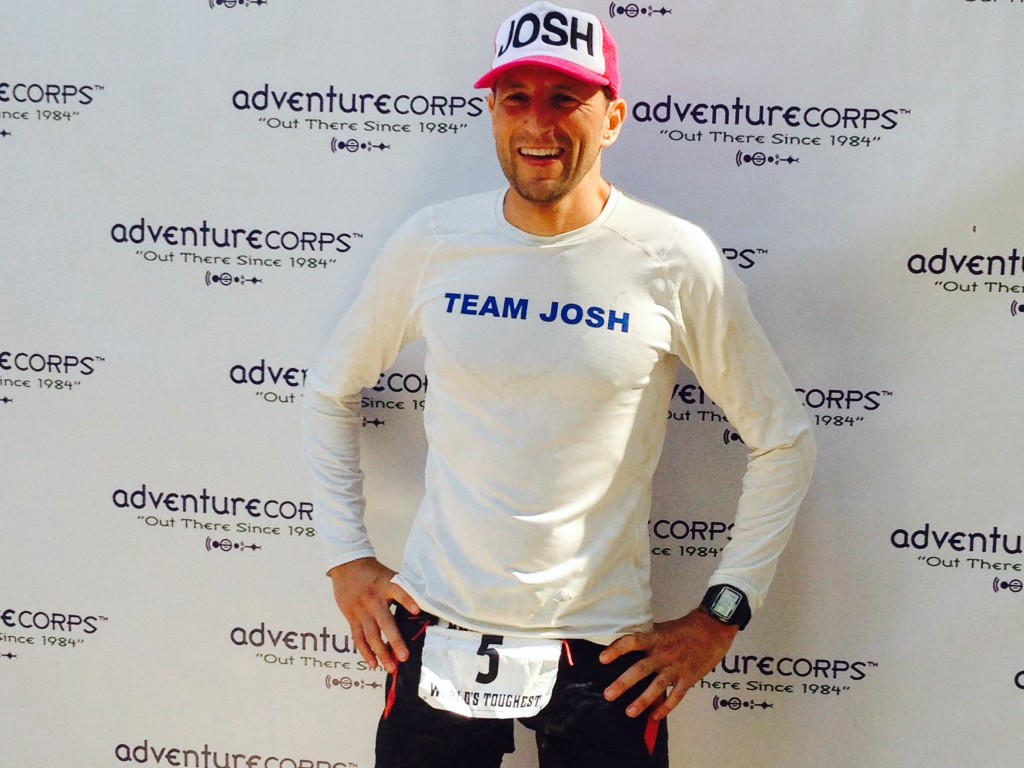 (photo: Elizabeth)
This one Sally got might be my favorite finishing photo of them all. It really says everything I was feeling – exhaustion, gratitude, pain, release: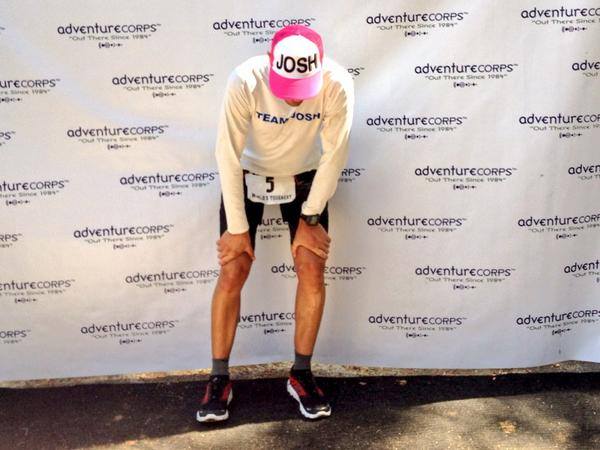 Thank you to everyone for all of your love and support during the months leading up to the race and during the race itself. My crew kept me updated on all of the incredibly nice messages and posts and encouragement coming from all over the world. With your help I've raised $6,000 for Challenged Athletes Foundation in connection with this race. Special thanks of course to Aaron, Billy, Colin and Sally for dedicating five days (really, many more) of their busy lives to helping me make this dream a reality. And to my lovely, patient, understanding, selfless wife, Elizabeth for always encouraging this madness and doing her best to keep me grounded and sane. She might not have been on my four-person crew, but I would never have made it even close to the finish (or even start) line without her. Thanks to all of the other runners and support crews and volunteers out there during the race. It was a pleasure and an honor to meet you all and share those days with you. Thanks also to Chris Kostman and the rest of the Adventure Corps crew for putting on such an awesome race. There is such a passionate community surrounding this race; I love it! Finally, while I don't have real "sponsors", there are a few companies that have been very generous and supportive of me: Tailwind Nutrition, Vespa, Trail Toes and Rudy Project (my crew looked great in the sunglasses!) all hooked me up and helped keep me going this year. (Keep your eyes out for a "What Worked for Me" blog post about this race soon.)
p.s. My feet weren't anything like they looked or felt after Brazil. In fact, other than the pain in my right arch, a hot spot on the ball of my left foot and a pretty swollen right lower leg, I was in good shape.
p.p.s. If you've made it this far, I know you've read a lot, but this won't be my blog last post about this amazing race. If you have any questions I can answer in a future post, let me know!