Bandit Ultra Trail Run 50k – Race Report
Let me start by making an incredibly obvious statement: Running 31 miles is hard, especially when there's 6,500 feet of net elevation gain. It's a different kind of "hard" than 50 miles hard or 100 miles hard or even road marathon hard, but it's still really hard. And after not racing a 50k since September 2010 (during which interval I'd raced all of those other distances), I guess I sorta forgot that. It's not that I didn't take the race seriously, and I'd trained by doing a bunch of 4 and 5 hour runs in the mountains, but I don't think I truly appreciated that I was going to try to race 31 miles through the hills of Simi Valley.
My early season training has been going well. I've been spending a decent amount of time in the mountains and (knock on wood) have not been forced to miss any since my knee injury scare in November. I've had way more "good" training days than "bad" ones and am happy with my fitness. I've done some good, long training days in the Santa Monicas and the San Bernardinos, including this day on Mt. Baldy in the snow and wind with Billy, Colin, Dave and Dom: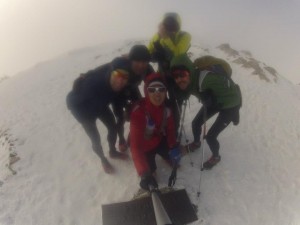 (At the summit; photo – Billy)
and this day at Mt. Wilson with Bodie and Elan; there was snow on the ground, deep in some places, but as you can see it was a beautiful Southern California winter day: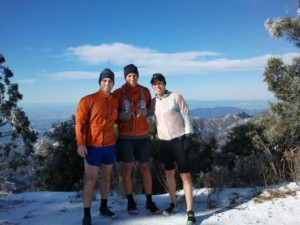 (photo – Bodie)
And in my early season training fog, I must have forgotten that a 5 hour trail race is a lot different than a 5 hour training run/hike.
But – and this might surprise my three regular readers – I am still really happy with the way Sunday went for me. Of course, I always want to be faster and finish stronger and place higher, but I ran a decent race and got a chance to see what I need to work on for my longer races coming up this spring and summer.
Another important thing about this race was that I had fun. Even when I was suffering climbing some surprisingly steep hills I didn't realize were coming between miles 24 and 27.5 and when my calves kept seizing up with cramps during the final 3 miles of the race, I was mostly having fun. And that's how it should be – I had the privilege of going out and running 30 miles through new-to-me trails, surrounded by friends who were out there racing or supporting or volunteering. Sun, fresh air, great views; a well organized, well-marked course, great aid stations and volunteers and a competitive field. For the most part, my smiles in the pictures posted here were genuine.
I drove out that morning with Elan and Billy. Elan also raced the 50k. Billy raced the 30k – he posted his race report last night. We got out to the race site with plenty of time to check in, say hi to friends and take care of final preparations.
The race starts with a 1.25 mile lap around Corriganville Park. That was a nice warm-up for the first of climb of the day. After that first lap around the park, the course is pretty much up one hill, down the other side, up another hill, etc. Here's the course elevation profile: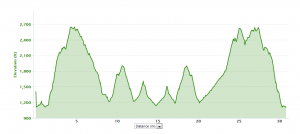 It tried to hold back on the first climb, but I was feeling good, so I kept moving at a pretty decent pace – running when I could and hiking when the trail got technical or too steep. For the first half of the race I was constantly trading spots back and forth with a few other guys.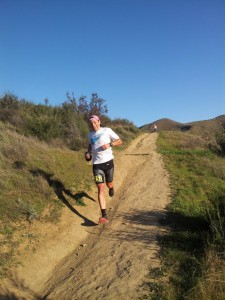 (cruising downhill, mile 7ish; photo – Pedro)
My favorite part of the course was the section from mile 9-15 (going out) and from 15-20 (coming back). It was mostly singletrack with some good climbing and descending.
As I approached the 15 mile turnaround, I saw all the top guys coming back at me. I was happy to see that Chris was in first place and looking super strong. Of course, he went on to handily win and set a new course record.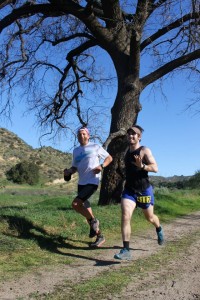 (Heading into the turn-around with Elan; photo – Chandra)
I got to the turn at around 2:15 and decided that I should be able to run sub-5 no problem. The altimeter on my watch said that I'd climbed around 3,000 feet so far. For some reason I had it in my head that the race was had no more than 4,500 feet of elevation gain (it was really more like 6,500!), so even though I knew that we still had some big climbs, I convinced myself that the hardest parts of the course were behind me.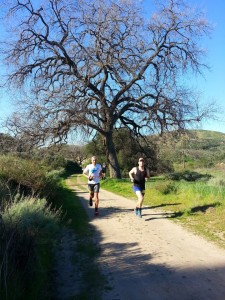 (Heading back out of the turnaround with Elan (for the next few minutes); photo – Kevin)
After I made the turn and started heading back, I saw that there were about 8 people within a couple miles behind me.
The second half of the race was harder than the first (duh, I guess). I found myself hiking much more, especially from around mile 20 on.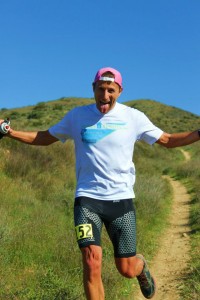 (Having fun, or faking it at least; photo – Chandra)
Looking at the course profile, the section of the course from around mile 20 to 24 that doesn't look so bad – I thought it would be a consistent low-grade mostly runnable climb. And it probably is on fresh legs, but by the time I got there on Sunday, my legs were definitely not fresh! Also, this was the point in the day where it started getting hot and the course is very exposed between mile 17 and the end. I ran when I could and hiked when I couldn't. Somewhere around mile 20, the lead woman passed me. I thought about trying to stay with her, but quickly realized that with how strong she was still climbing, there was no way that was happening! So I set a new goal of not letting anyone else pass me and still shooting for sub-5.
Miles 24 to 27 were the hardest of the day. That low-grade climb changed to nearly vertical (or at least that's how it felt) and the steep climbs continued (with some short descending breaks) for three miles. I was still on pace – but cutting it closer by the mile – to going sub-5, especially since the last three miles are all downhill, but then both of my calves starting cramping and seizing up. I'd run a little bit and then have to stop to give my calves a few seconds to relax before I could even bend my ankles. I'd been taking electrolytes at every aid station, but probably not enough. I also didn't take in enough calories throughout the day; I probably could have used at least another 200. Neither were a huge deal, but not minding electrolytes and calories will really crush me in the longer races coming up. At that point on Sunday, I was already past the last aid station and regardless, with only three miles left there wasn't much I could have done.
Anyway, after a bit of hobbling on the technical downhills back to Corriganville Park, I sucked it up for the final half mile to the finish. Approaching the finish, I got some good cheers from my friends who were spectating or already done.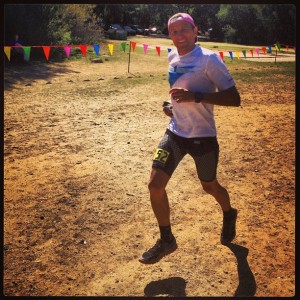 I even did a little jump across the finish line. These pictures show my "landing" – I'll have to wait for the official photos to see if they caught my jump.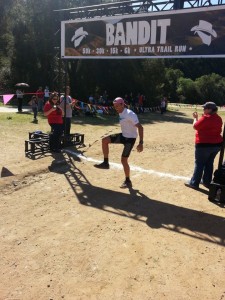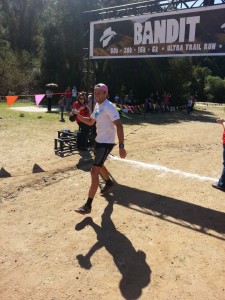 (photo – Kevin)
It was a great way to spend a Sunday!
I will also say that I'm really happy with how my Skechers GOtrail's performed during the race. This was my first race in any of the Skechers shoes. Despite the rocky, technical trail sections, they were comfortable throughout and didn't give me any hotspots or blisters. They have the right combination of lightweight, flexibility and protection from rocks.
Official results:
Time = 5:01:42
Pace = 9:48/mile
Overall: 11/140
Men: 10/107
A/G (40-49): 2/34