Bear 100 – Race Report
It was 4:45pm last Friday. I was about 52 miles and nearly 11 hours into the Bear 100 and I had just completed the third big climb of the race. That climb was tough and took a lot out of me; I was feeling physically and mentally drained. My stomach was bad, my feet hurt and, despite a very good start to the race, I'd managed to convince myself that I would not, could not, finish the race in less than 24 hours and obtain the coveted "Wolverine" (sub-24) buckle. Drew, Jeff and Lauren met me at the Tony Grove aid station and despite my mental struggles, I quickly grabbed some nutrition, filled up my water bottle, changed my shoes and shirt and continued on. I then spent the next 24 miles (up and down and up and down and up and down – really) convincing myself that finishing in 25 hours or 26 hours would be OK.
But I pushed through those tough 24 miles and when I got to the Beaver Lodge aid station at mile 76 and picked up Drew to pace me to the end of the race, my world immediately changed for the better. The first thing Drew said to me when we left the aid station was "there is no way you're not breaking 24 hours today". I tried arguing with him for a second but he wasn't having any of it. And that got me thinking. 24 miles to go and 6:56 to do it in. As long as I keep moving forward, there's a chance. And at that point, all I needed was to believe I had a chance.
Now, let's rewind to just moments before the 6am race start…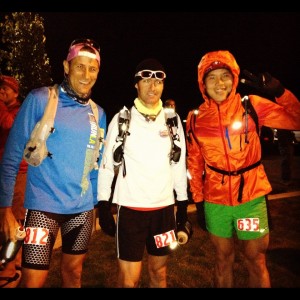 (photo by Chandra Farnham)
I was standing with Lukas and Kevin near the starting line for the Bear 100 in Logan, Utah. Despite having dedicated the last five months of training to preparing for this race, I didn't really know what I was in for. I'd looked at the course profile (over and over again) and read a few race reports. I'd sort of read the course description and flipped through the photo tour. But none of that gave me very much. The weather reports said it wouldn't rain and I knew that it would likely get warm during the day and could get very cold at night.
The one thing I did know for sure was that the race starts with a six mile climb with 3,400 feet of elevation gain, going from 4,800 feet to 8,200 feet. And I knew I would not rush that climb. Looking at the profile, all of the climbs on the course (there are 12 that climb over 1,000 feet) look pretty terrifyingly steep. If I was going to survive the race, I'd have to be very patient.
That first climb went great and really set the tone for the first half of the race. We started in the dark, but the sun came up as we climbed and lit up the mountains around us with a pink and yellow glow. All the amazing fall colors of the trees and leaves popped around us. At times the trail was covered in red and gold leaves. It was the picturesque Fall that we definitely do not have in LA. You can see it in some of the pictures here.
A group of about 8-10 of us hiked up the trail in a line, making steady progress. The climb was long, but not particularly steep and I felt great. I hiked the hills and ran whenever I could. The first aid station (mile 10.5) passed in a flash and then it was a long descent down to the second aid station at mile 19.5. I rolled in there at 9:55am, five minutes quicker than I'd told Drew was the fastest I'd be there. Oops. But I was feeling good and felt like I was holding back plenty. I didn't even stop at the aid station, other than for Patrick Sweeney to take this great photo: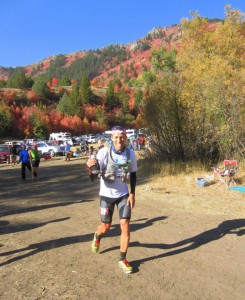 (photo by Pat Sweeney)
The third aid station was less than three miles away. And they were easy miles on a wide dirt road. The only issue with this section was the trucks and ATV that drove by kicking up a ton of dust in our faces. For this section, the buff around my neck became a mask to block some of dust from my mouth. Word to the wise: the first toilet on the course is at the Richards Hollow aid station (mile 22.5). I made it there, barely. 🙂
Looking at the profile, I expected to either be climbing or descending the entire race. But in reality, there were some flat sections and some false flats that were runnable. The 23 miles between Richards Hollow and the Temple Fork aid station at mile 45 were mostly uneventful. I ran relaxed and continued hiking the climbs. I had a pretty funny (to me) conversation with this whacky German guy as we came out of the Cowey Canyon (mile 30) aid station. He might have been drunk – and no that is not me just stereotyping Germans! He actually said something about how much he'd had to drink the night before the race (which was only half of what he'd had to drink the night before the race last year, or something like that!)
Here and there I'd catch up to someone or someone would catch up to me and we'd talk for a few minutes before we separated again. The only out-and-back section of the course is a half mile stretch going into, and out of, the Right Hand Fork aid station at mile 37. I got to see the three or four runners ahead of me (including women's leader and eventual winner Darcy Africa) on my way in and the four or five runners behind me as I headed back out. Between miles 25 and 45 I passed a fair number of runners. I wasn't really trying to pass anyone and fully expected to see many of them again. I was on about a 20 hour pace, which I knew I couldn't sustain, but I also figured that I had a good chance at a sub-24 finish.
Despite having studied the course profile before the race, once things got started all I could really remember was that it started with a long climb and the next big, long climb started after the Temple Fork aid station at mile 45. I came into that aid station still feeling pretty good. I was a little worried that I was behind on calories and knew that could lead to disaster in the second half of the race. During the first 45 miles, I'd been trying to average 200-250 calories per hour, but I'd guess I was taking in more like 150 per hour. Most of that was Infinit. I'd also taken a few Gu's (mostly the Peanut Butter ones, yum!) and some Honey Stinger Chews. At Temple Fork, I ate a banana and some grapes, thinking some fruit would help me get up the climb. It pretty much had the opposite effect and ruined me for "real" food for the rest of the race. During that 5 mile/2,800 foot climb, my stomach took a turn for the worse. It wasn't so much an upset stomach as just a stomach that I didn't trust to take in any calories. Pretty much the same thing happened to me at this point at AC, so maybe it wasn't the banana and grapes, but in my mind, fruit was banned for the rest of the race. Unfortunately, my plan had been to eat a lot of fruit during the second half, so that pretty much meant that I struggled to take in calories from there to the finish. For the rest of the race, I survived on broth, some gels, potatoes dipped in salt and a few more packs of the Honey Stinger chews. Despite the bad stomach and aching feet, I maintained a pretty steady hike up that climb. I did get passed by a couple guys towards the end of the climb. But it was during this climb that I started to doubt myself. I wasn't questioning whether I'd finish, but I went over and over the numbers in my head and decided that finishing by 6am wasn't likely.
I got to the next aid station after that climb (mile 52) at 4:45pm. That's where I changed shoes and my shirt and took a headlamp and gloves. The next 24 miles were three climbs and three descents, none of which were all that steep or long, but each of which further sapped my confidence and my will. I was climbing relatively well but the descents were killing me. Pretty much all of the descents at the Bear are technical, rocky and nasty. And the rocks are all kinds of sizes, littered throughout the trail. It made footing and consistent movement very difficult, especially as my legs and feet got tired. I "ran" them as best I could but I felt like I was still losing time against my goal.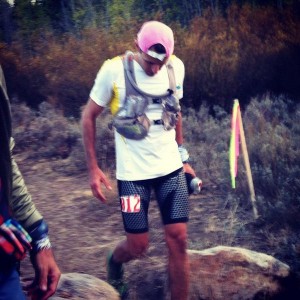 (coming into Franklin Trailhead aid station; photo by Lauren)
One pre-race "mistake" I made was that I left my Garmin in the backpack that I sent to the finish line for my post-race dry clothes bag. I realized it too late and started the race without a watch. I planned to get Drew's Garmin from him at some point after mile 20. But I ended up choosing to run the first 61 miles of the race without a watch (I did have my blackberry, but I only checked the time a couple times). I was really enjoying not having the constant reminder of my time, distance and pace and each time Drew offered his Garmin to me I turned it down. Finally, at mile 61 (Franklin Trailhead aid station), I took the watch. I figured that as the race wore on and it got dark, I'd want to have an idea of how much farther to each aid station. It got dark at around 7:30 (somewhere around mile 64).
I rolled up to the mile 76 aid station (Beaver Lodge) at 11pm, 17 hours into the race. I had seven hours to go sub-24 and I wasn't sure I had it in me. That aid station is actually indoors and when I got inside I saw Drew and Lauren (Trey's girlfriend and crew) and started getting some stuff together for the final 24. Then I saw Lukas. My training partner and friend who had consistently been 20-25 minutes ahead of me the entire race. He was bundled up under blankets, looked like he was suffering pretty badly, and wasn't sure when, or if, he'd continue on.
Drew and I got going. And he handled me perfectly for those last 24 miles. He was convinced we would break 24 hours. He kept me moving forward; pushing me to run anything runnable, even if it was just for 15 feet. So we hiked up the hills, ran anything flat and either ran or walked down the descents, depending on how technical and rocky they were. We barely stopped at aid stations; just pausing long enough to get a quick cup of broth or refill a water bottle. We passed a couple runners, most of whom were sitting at aid stations, resting or trying to warm up, I assume. Thankfully, I never got too cold. I'd guess it never got colder than high-30s. There were times in those last six hours where I was chilly, and I was happy to have gloves, a hat and my windbreaker, but I never really felt "cold". The fact that I was able to always keep moving helped a lot with that. We yo-yo'd back-and-forth with Shawna Tompkins, me passing her on the climbs, her bombing past us on the descents. I'm not a great descender under the best of conditions, and at this point in the race, with aching feet and tired legs, the rocky descents were not particularly welcome sights.

Around mile 90, Shawna's pacer came sprinting up to us and asked if we had any extra AA batteries they could have. I did have some and since I'd only started using my current headlamp at mile 76, I figured I'd be good to the finish. Karma and sportsmanship and all.
Drew and I got to the final aid station at about 3:20am. The three or four miles into that aid station had been some of the easiest miles of the race – flat or a slight descent and smooth dirt road. I was still feeling good and ready to take it home. But immediately out of the final station, you get the last climb of the race. And it's a doozy. It's the one climb that looks as bad on the profile as it actually is. It's about 1,000 feet of vertical gain in 0.9 miles. Drew and I hiked up it as best we could, but we had to stop three or four times for 10-15 seconds for me to catch my breath and rest my legs. For anyone who's done the climb at Baldy under the ski lift, that's pretty much what this climb was like. At that point in the race it really seemed unfair and unnecessary. The "good" thing was that once we crested that climb it was all downhill for the last six miles of the race. Somewhere around mile 94, Shawna passed me for the last time and was gone in a flash.
The final descent was nasty. Parts of it were steep and all of it was rutted and rock strewn. Drew and I went down as quickly as I could. To make matters a little more challenging, both of our headlamps started rapidly fading with about five miles to go. I didn't have any more AA batteries for mine and we couldn't open Drew's to replace the AAA batteries in his. Thankfully, I did have my little back-up flashlight (this awesome Fenix E11) and we both relied on that for the last hour of the race. (It would have been easier if I hadn't given up the batteries, but I don't regret the decision one bit!) Near the bottom of that climb, we noticed two pairs of headlamps pretty close behind us, and gaining. I was convinced they would pass us, and I'd resigned myself to letting that happen. Once you get to the bottom of the descent, it's about 1.5 miles on mostly flat roads to the finish line. Those two racers (and their pacers) got within 30 feet of me at the bottom of the climb, but once we got on the road, Drew started running and made it clear that I could run too and they would not pass me. And run we did. The instant pace on the Garmin was showing anywhere from 8:15 min/mile to 7:30 min/mile! And pretty soon, we couldn't even see those two chasers behind me. We pushed all the way to the finish line. My last mile of the race was probably also my fastest mile of the race!
It felt FANTASTIC to be done. I knew I'd run a smart race and run it well. I didn't know my exact time, but knew that it was both sub-24 and faster than my AC100 time from 2010.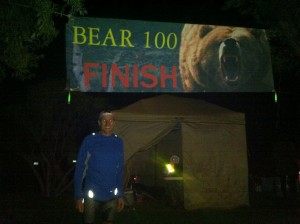 (photo by Lukas)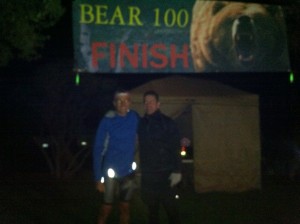 (with Drew, photo by Lukas)
The finish line was pretty quiet and lonely. Leland, the race director was there along with a few volunteers and the timing team. There were a few runners with their crew. Unfortunately, Lukas was also there, having dropped at mile 75 after spending a few hours there trying in vain to warm up and continue his race. We took those pictures, changed into warm clothes and jumped in the car for the hour-or-so drive back to Logan.
After breakfast, showers, a nap, lunch and another nap, Lukas and I went back to the finish line at Bear Lake for the awards ceremony. The awards ceremony was someone anti-climactic, but at least I got a few pictures: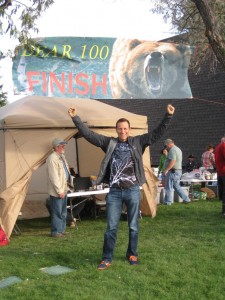 (photo by Lukas)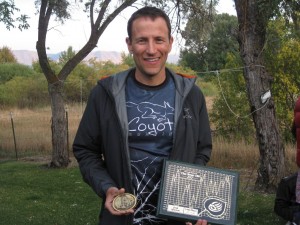 (photo by Lukas)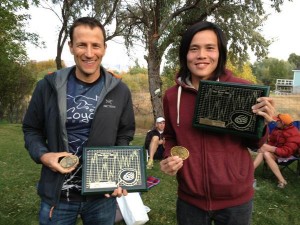 (with Kevin Chan, photo by Chandra)
This is what I was running for (and my sub-24 reward):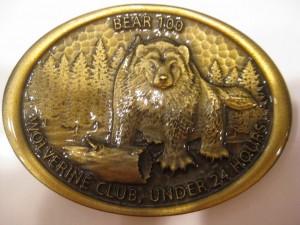 And with that, my second 100 miler is in the books. Thankfully, it was another super positive experience. I had a few relatively rough hours between miles 45 and 75, but even that "low" time wasn't so bad. I got one small blister between two toes, but it only hurt for a few miles before it must have popped and the pain disappeared. The bottoms of my feet ached for the second half of the race, but that's not surprising. I'm super psyched that all my training and hard work paid off.
Bear 100 is a great race. The size (250-300 runners) feels perfect; it's never really crowded, but also not super lonely. The scenery is absolutely beautiful. There were many times during the race – especially around sunrise – when I wished I had a camera. Leland puts on a great race. The aid stations are well staffed and the volunteers were great. The course is challenging, that's for sure, but it's also fair. And there aren't any real surprises. The race has a reputation for a poorly marked course that is also the subject of marking vandalism by hunters and ATV riders, but I didn't really experience that. There were a few intersections that either weren't marked or weren't well marked, but the right choice was always the "obvious" one and I never once got lost or even had to think about which direction for too long. We had perfect weather, which was very nice. I'd highly recommend this race if you're looking for a well-run, challenging day in the mountains!
I do have one more blog post about this race in the works. I want to write up what I carried with me and used during the race as well as summarize what worked for me and what didn't. Stay tuned for that soon.
I can't finish this post without thanking everyone who had a part in my race. My main training partner Lukas, who made training for this race always fun. I know he'll crush whatever race he decides to do next. Our early Thursday morning crew – Tyler, Ankur, Becky, Katie, Sim and Lukas – for making 5:30 starts with 13-17 miles before work happen consistently. Jimmy, Kate and the Coyotes for helping me keep things in perspective and remember that everyone runs 50 or 100 miles, right? Trey, Jeff, Lauren, Kevin and Chandra for a great SoCal contingent in Utah and Jeff, Lauren and Chandra for providing tons of help along the course. Drew for making the trip to Logan, crewing me all day and then running the last 24 miles with me, and really making my race what it became. Drew's also the only person who's been there for both of my 100s. Lucky charm? My family for the never-ending encouragement and never trying to talk me out of this nonsense. And finally, Elizabeth, for always putting up with my bullshit with a smile. Or at least without too big a frown. Everyone else helped me have a great race, but I definitely couldn't do any of this without her.
Now, it's time for recovery and planning 2013!