Monthly Summary – June 2016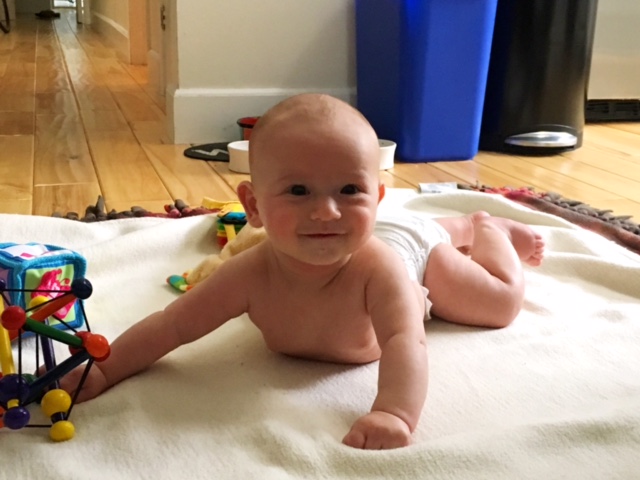 June was a good month. Chase is growing and changing and becoming more fun on an almost daily basis. Between months 4 and 5, he's become so aware of his surrounding. You can almost see his mind working to figure out things like how to get a toy just out of his reach or what someone is trying to say to him or what the dogs are doing. It's awesome to watch. I also had my first Father's Day, which was a damn nice feeling.
Chase is working on becoming a pretty damn good sleeper, which is in turn helping Elizabeth and I become good sleepers again! This was not one of his finest moments of sleeping (but it sure was funny to see):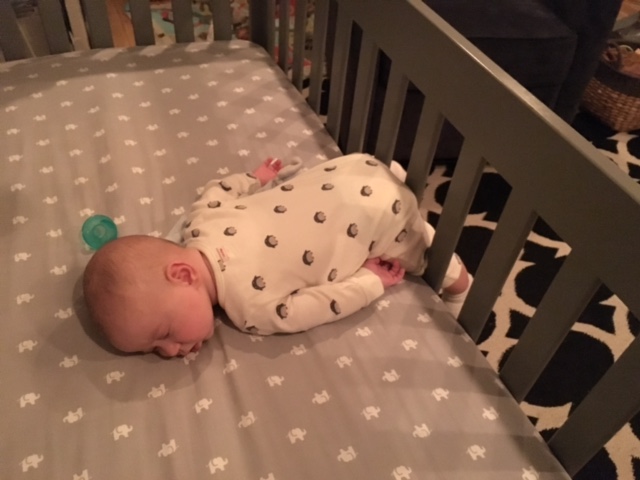 We spent a week in DC to visit family and friends and had a great trip. Chase was a champ on both flights, particularly on the way there when he spent a bunch of the flight flirting with two women sitting across from us. It was really nice to spend the week in DC and we had an opportunity to relax and see a bunch of friends that we don't see very often.
Other than a couple missed runs around our trip to DC, I was incredibly consistent with my running. And consistent running usually counteracts tiredness and keeps me happy. I've continued running all over the Hollywood hills, exploring new routes and finding connectors for ones I've done before. There is really great running out there if you're willing to explore. That's one thing that is a bit new to my running. For years and years, while I had a lot of different places to run, my routes at those places didn't vary that much. I'd explored all over the Santa Monicas and knew the flatter roads around home like the back of my hand. But over the last few months, I've rarely run the exact same route more than once or twice. In the mornings, I just go out my door, pick a route up towards Mulholland or out to Griffith Park and then go from there. That same attitude bled into our trip to DC. When we've gone there in the past, I usually just default the same two or three routes. This time, for each run, I found my way to Rock Creek Park and then just followed whatever trail looked good. A few times this didn't work out that great because I ended up on relatively short loops and didn't get anywhere, but my last run there I put something together and ended up going longer and further than I'd planned.
I actually/finally did get to the pool twice. Those two short swims felt fine, but I wasn't motivated at all. While swimming a ton in 2015, I had built up my tolerance to the boredom of 25 yard lap swimming and that is all gone. I'd like to continue to get in the water once or twice a week as crosstraining, but that will be the first thing to go if I get busy or have other commitments with Elizabeth or Chase.
In June, I continued doing the strength work from May. I scrapped the idea that I would alternate days of pushups and bicycles with days of planks and legs. I just did whatever I felt like as many days as reasonably possible. That means that I did a lot of pushups (because I like them the best), somewhat fewer bicycles and planks and a lot less legs. I also never feel like doing legs right after a run (even baby leg stuff like I'm doing) and without a schedule that said "do legs today", I skipped a lot of days. On the other hand, some is better than none! I did more pushups (2,507) and bicycles (6,620) than in any prior month and have been mixing in a lot of varieties of pushups. I ended up doing a daily average of 83 pushups, 220 bicycles, 57 leg reps and 3:45 of planks. I'm a bit bored of this and thankfully have some other ideas for strength work in July. It'll still be simple, body-weight stuff I can do at home or whenever I feel like it during the day but I'd like to mix things up a bit.
I didn't finish a single book in June. I'm about 2/3 of the way through The Light Between the Oceans. It's a great book so far. Really well written and an incredibly compelling story. The main characters have an awful choice to make and I don't see how it possibly ends well for anyone involved. I am very curious to see how it shakes out. Connect with me on Goodreads!
Here's June by the numbers:
Swim: 2,194 meters (made it to the pool twice!)
Cycling (outdoors): 0 miles (I should just stop tracking this, but still remain hopeful that I'll ride again someday…)
Run: 157.9 miles
Total Run Elevation Gain: 22,931 feet
Strength Training/Yoga: 3 sessions
Approximate monthly total training time: 26.25 hours
Weight: No idea.