Angeles Crest 100 Mile Endurance Run – Part 1
I'm gonna start this race report at the end. The very end. I've written 14 words and I know this is going to be a long one. And the end is pretty much the best part. If you do read past the next paragraph, you'll be "treated" to what I remember of this crazy experience as well as a TON of photos, thanks to Elizabeth, mom, Cat, Jeff, Billy, Colin and others.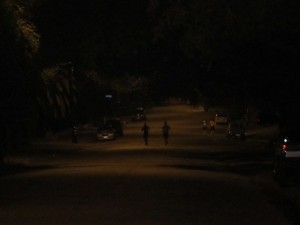 It was right after 4am Sunday morning. I'd spent the last 23 hours on my feet; feet that had absolutely been screaming at me since we left the Sam Merrill Trail checkpoint (mile 89.25) about 90 minutes earlier. Jimmy tells me that I'm a half mile from the finish line, but I have no idea where that is and no idea what a "half mile" means anymore. What I do know is that I am finally done running on trails. I have never been so happy to feel my feet on pavement. (But more on that below.) There are a couple of lights ahead and Jimmy wants to give chase. He's competing for me. "We can catch Dom," he says. I make very clear again that I don't give a rat's ass about catching anyone. Faster = more pain and I don't have the stomach for more pain any more. I know I'm getting my sub-24 hour buckle and no one is going to catch me from behind. That's plenty for me. Then the lights stop moving and the two runners kneel down. Now Jimmy's really excited because he thinks Dom's stopping to stretch. So we speed up just a little. I think "Maybe I can pass them. What's a little more pain?" But it's not Dom, it's Billy and Colin taking pictures. Just like they'd been doing all day when they weren't out there pacing. It's 4am for goodness sake. Aren't sane people asleep at this hour? When we catch up they run with us for a few steps, take a couple photos and then take off.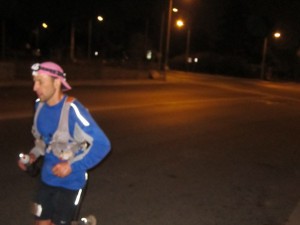 I watch them leave and only wish I could run that fast. One turn, maybe another and there's the park. The way to the finish isn't actually marked (on this day that's no surprise) but thankfully someone points me in the right direction across the grass. I can finally see the finish line banner. But there aren't any lights. There isn't any music. No finish line clock. No announcer. And the banner is actually facing away from me. Nobody's telling me my time or what place I'm going to finish in. WTF? But at this point, I'm not asking questions. Jimmy's pointing me in the right direction and I start seeing and hearing people – my friends and family, incredible supporters – cheering me on. And then, and then, it's just done. I know I smiled because I have pictures.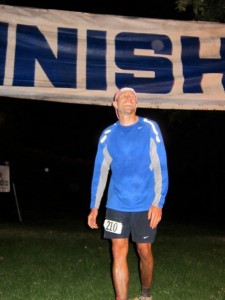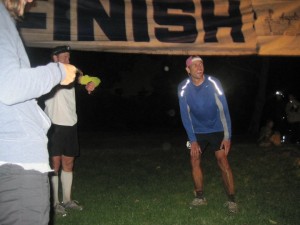 I got my white finishers' t-shirt and a finish line photo. I saw Elizabeth and mom and dad and Loren and Cat and Jeff and Drew and Ashley and Colin and Kristin and Billy and Pam and Scotty and Lori and some other people who I'm sorry for not mentioning. All these people who had spent most of or all of the last 24 hours working their asses off to get me to this point. Hopefully I thanked them all. And gave them a big sweaty, dirty hug. And then I sat down. I finally sat down.
But that was just the last few minutes of the day. There's 23:14:11 left to tell. 🙂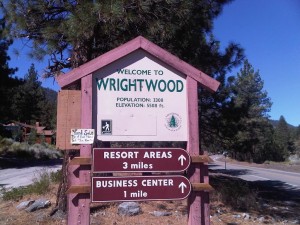 We got to Wrightwood at around 11am on Friday and went straight to race check-in. I got myself checked-in and weighed (164 lbs) said hi to some friends and then went to lunch with Sean and Mike at the Evergreen Café. I'd been doing regular long runs with Sean and Mike over the last few weeks Sean is an AC100 veteran (who didn't race this year) and Mike was up there for his first attempt on the course. After lunch I tried my best to sit through the pre-race meeting, but could not for the life of me pay attention to anything Hal had to say. Eventually, I just got up and took a walk. And stood under the starting line banner.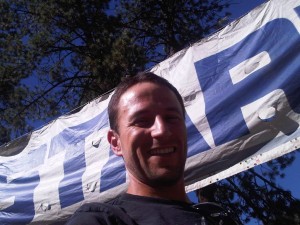 Around 4:30, we made our way to the hotel and met up with my parents. We spent a few hours getting things organized. I was in bed by 8:30 and fell right asleep. I woke up a bunch of times throughout the night, but when the alarm went off at 2:30, I was ready to get up and moving. Breakfast, final organization, and it was 3:45 and we were out the door, headed to the start. My plan was to race in my MT100s for as long as I comfortably could. I assumed that would be somewhere between 30 and 40 miles. I was also wearing my new Drymax Max Pro Trailrunning Socks. I figured I'd have to change those at least once too. And of course, my pink hat!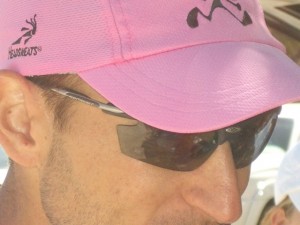 There was a ton of good energy at the race start. Between racers and supporters, I had a lot of friends there. I showed off my glitter star tattoos and got a picture with Catra Corbett and her real star tattoos.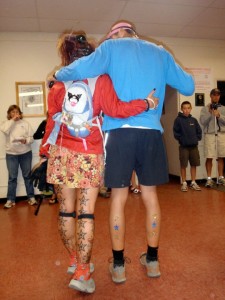 Photo by Katie DeSplinter
A few minutes before the start, we all lined up under the starting banner. I felt great. So much energy. Not really the nervous anxiety-filled emotions before most races. I was just pumped to run. Bouncing up and down. Ready to tackle the course. A fireman counted down from five. And then it was time.
The race starts through Wrightwood and I jogged this part nice and easy. Watched a group of 15 or so speed away. Let them go, this first little bit is easy, but less than a mile in, the hills start. It's a 3.5 mile climb, first on pavement, then on the Acorn Trail connector to the Pacific Coast Trail. As soon as the hills started, I was hiking. That had been my plan all along. In the first 26 miles of the race, you get three solid climbs (Acorn Trail, Baden-Powell and Mt. Williamson), and I was going to power hike every step of each of them. I went up the Acorn Trail with a small group, mostly staying in line. It was still pitch black night and we got some great views of the lighted-up cities below us. Somewhere around mile 5, I picked up the pace just a little bit and moved through a few people. It was just starting to get a little light out. A few miles of descent and I was at the first aid station, Inspiration Point (mile 9.3). It was 6:48am and I was in 15th place.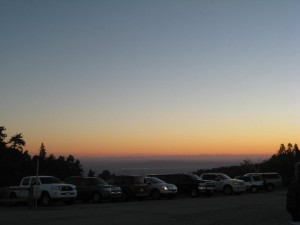 As I got there, my mom, Elizabeth and Drew were all cheering and taking pictures. That was great, but I wanted my salt and Infinit to re-fill my bottle. I think I yelled at them a little bit. Sorry. Jimmy was there and yelled at me (not for the last time) to "SLOW THE FUCK DOWN". He told me I was running a 19 hour pace. Oops. But not really. I felt great, knew that I was running comfortably and knew that I wouldn't even begin to try to sustain that pace. I got my stuff, refilled my bottles and was off towards Vincent Gap. This is a pretty fast and easy 4.5 miles and I don't remember much of it. I went back and forth with a few runners here, including one guy named Tom who I passed on each climb and he passed me back on each descent. A tendon in the top of my foot and front of my ankle had been bothering me for about two weeks before the race. I wasn't sure if it was taper-itis and just hoped it would go away. I had ART, a massage and acupuncture and had been diligently using Traumeel, ice and Epsom salts. It was better but not gone. It was mostly just a dull ache but downhills (when my foot was naturally pointed) caused consistent pain. I had taped it up with some KT Tape the morning of the race and just hoped for the best. It wasn't hurting at this point, but I still wanted to take it a little easy on the downhills.
I got into Vincent Gap (mile 13.85) at 7:32am in 14th place, traded my bottles for my pack (Ultimate Direction Wasp) and started my hike up Baden-Powell.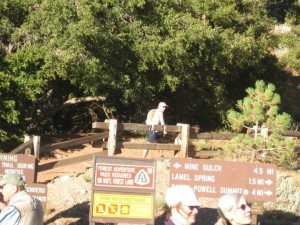 This is the longest climb of the day and at the top you hit about 9,000 feet. The first time I hiked Baden-Powell in training I suffered a little, the second time was smooth as butter. What would I get on race-day? Smooth-as-butter it was! I set a comfortably quick power hike pace and just powered up the hill. I passed a bunch of people. Had they gone out too fast or was I just hiking great? The altitude wasn't affecting me. My heart rate felt under control. I knew I was still less than a quarter of the way through the race, but things were going really well. I stopped at a fresh water spring called Little Jimmy on the way down the hill and refilled my bottle. Despite the fact that it's covered with poison oak, Little Jimmy might be my favorite place of this course. I had moved my way through seven racers on the climb up Baden-Powell and lost one spot (to Tom) on the descent to the next aid station at Islip Saddle (mile 25.9). It was 10:07am.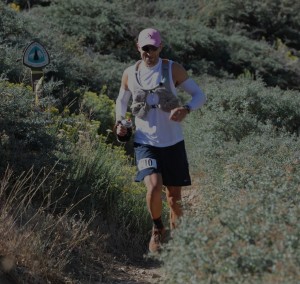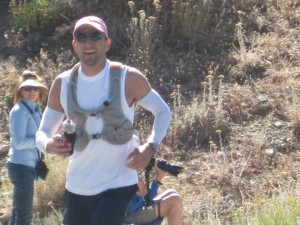 At the Islip Saddle aid station, Mr. B was hanging out waiting for me to finally get in.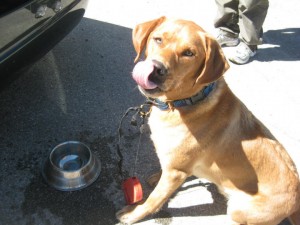 Mr. B didn't yell at me, but Jimmy did. "But I did slow down," I yelled with a smirk. "Not enough," was the response. And then, as I started the hike up Mt. Williamson, I heard the now-familiar "Slow the FUCK down!" I hiked up Mt. Williamson much like I hiked Baden-Powell. Mt. Williamson is a relatively short, but really steep (1,380 feet in 1.6 miles) climb but on Saturday it went by in a flash. Pretty soon I was back crossing the Angeles Forest Highway and after the next little trail section, landing at the Eagle's Roost aid station (mile 29.98).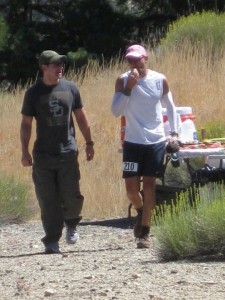 Drew was waiting for me at the beginning of the aid station and walked with me as I re-filled my bottles and headed to the rest of my crew. He reminded me to slow down. He reminded me about how I felt so great during the bike at Ironman Canada last year and then suffered so badly during the run. Neither of us wanted that to happen today. I took his message to heart this time. It was really time to slow things down. This was as much of the course as I had seen and I had very little idea about what was coming next. I had a little bit of fruit and a coconut water and left Eagle's Roost with two handheld bottles at 11:08am in 7th place. I was almost a third of the way through the course and still feeling great. As I headed off for a few miles on pavement on Highway 2, Drew reminded me one last time that this was the time to slow it down.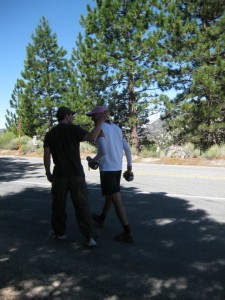 Photo by Elizabeth
To be continued… (soon, I swear)