Badwater 2009 Race Report – Part 3
This is it, I swear.
(Before you continue, check out Part 1 and Part 2.)
Blake checked in at the Lone Pine timing station at 11:30am on Tuesday morning. He was in 8th place; about a minute behind Phillip McCarthy and a little ahead of Jorge Pacheco. At some point since we passed Jorge earlier Tuesday morning, he had found a second (or fifth…) wind and was closing back in pretty quickly. At this point, none of us were all that concerned about where Blake would place overall. We were much more focused on him beating his time from 2007 (his only other Badwater), when he finished in 30:56:59. From Lone Pine, that left him nearly 5.5 hours to cover the final 13 miles. Under normal circumstances, or even under just sort of difficult circumstances, Blake would run, or even walk, those final 13 with four-plus hours to spare. But there is nothing normal about this last stretch of Badwater.
It was another sunny, cloudless day. The temperature was over 100 degrees (at least, right?). He'd been moving for over 24 hours and we all knew his blisters were about to burst out of his shoes. To make sure they weed out posers, the race finishes with what would probably be considered the world's toughest half marathon, even if it was just a stand-alone race. It's a nearly 5,000 foot climb from Lone Pine to the finish line at the Mount Whitney Portal. It starts at 3,610 feet and climbs to 8,360. There are portions that must be at least 13% grade. (For those of you in Southern California, the climb is pretty comparable to walking up to the top of Mt. Palomar or about twice as long – both in terms of elevation gain and distance – as climbing Yerba Buena from the PCH. For those of you not in Southern California, I'm sorry, it's pretty damn nice out here. For another comparison – and a timely one at that – if I'm looking at everything correctly, it's actually pretty close to Mont Ventoux, which is a half-mile longer and gains an extra couple hundred feet. The Mount Whitney climb starts and ends at considerably higher elevation though.)
From an earlier post you might remember this is the profile of the race. That straight shot up at the end is what I'm talking about.

Here's a blow-up of just the last 13 miles:

Coming into Lone Pine, I was feeling pretty tired, but as we passed the Dow Villa Hotel and turned onto the Portal Road, all of us on the crew got our second (or tenth) wind. We knew it was a long hike to the top, but Blake was this close and we were so excited to see him cross the finish line. For most of the race, we sent out just one pacer at a time to run or walk with Blake, but when he started up the Portal Road, there were three or four of us out there at a time. One or two to carry bottles, one to spray him down and one for just plain company. Blake wasn't talking to us that much, but we were sure chattering at him!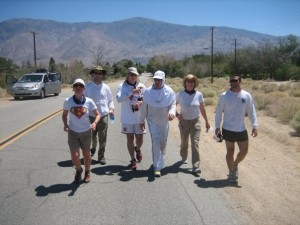 Pretty early in this climb, Jorge passed us, running. He looked great. He wasn't going to win this year, but he was going to look good finishing.
At this point, Blake wasn't taking in very many calories – sips of watered down Coke, some Nuun, some Cytomax. He was mostly coherent, but definitely using everything he had to keep his feet moving up the mountain.
Blake hit the final timing checkpoint at mile 131 at 2:29pm, about 28.5 hours in. To beat his 2007 time he had to climb the final 4 miles in 2:57. There was no question he would do it. At the final checkpoint, the race organizers told us that because the road is thin and has dangerous curves, we could only have one pacer for the rest of the way. Carlo jumped right in. And for the rest of the climb, he stuck right with Blake. We were now stopping the van every few hundred meters to meet them. Carlo was carrying the bottles and a spray bottle, so our stops were mostly for moral support and also because we were too damn excited to sit still.
The views from this part of the portal road were spectacular. Surrounded on one side by Mt. Whitney and the other by scrub-land (?) that seemed to stretch forever. At one stop, we got a great view of where we'd come from. It's not that easy to see in this photo, but that winding road in the middle of the photo eventually leads to Lone Pine.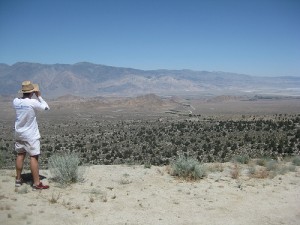 I'm going to blame it on dehydration and delirium, but at one point when we'd parked a bit in front of Blake and Carlo, I stripped down to my blue speedo and did a crazy little dancing run down the mountain to meet them. I'm guessing that they either thought it was a nightmare or they were just plain going crazy. Thankfully I don't have any photo evidence of that to share!
Here's Rickey, Carlo and Blake about 0.1 mile from the finish.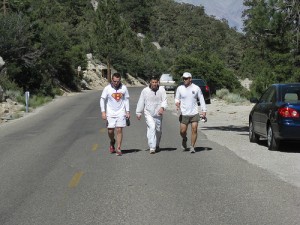 A couple minutes after that photo, the rest of us joined in a line and at 3:46pm, 29 hours and 46 minutes after Blake started (an average pace of 13:13/mile!), we all crossed the line together, with our hands high in the air and screaming for Blake.
Here's Blake getting his belt buckle (sub-48 hour finish), his medal and his finisher's t-shirt from race organizer, Chris Kostman: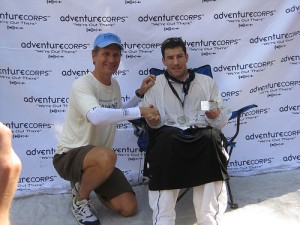 Here we all are: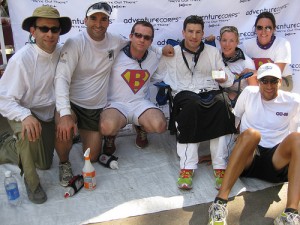 And another shot of me, Rickey and Carlo at the finish line area: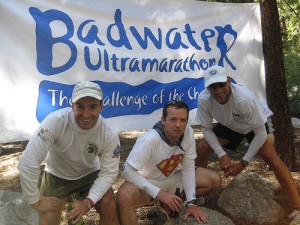 Our next stop was back to Lone Pine to get Blake checked out by the race medical team. We knew he would need fluids and some serious bandages on his feet. While Blake was with the doctors, we started cleaning out the disaster that was our van. Blake was pretty seriously dehydrated and the doctors took pictures of his feet, which supposedly were some of the worst they'd ever seen! After Diane got Blake into bed and we all got checked into the hotel and showered, we went for a fun Mexican dinner in Lone Pine. I don't remember much of dinner, really. I know we laughed a lot and had a couple beers (including a round that we didn't order, but did enjoy!). We were totally delirious. I think I fell asleep at the table…
Wednesday morning we got up and had a group breakfast. Blake joined us; he was looking better, if still a little out of it. After breakfast, we went back up to the Whitney Portal to see it with fresh eyes and have lunch. (Side note: The burgers and chicken sandwiches up there are fantastic.) There were some other racers and crew up there doing the same thing and it was fun to talk to them and share stories.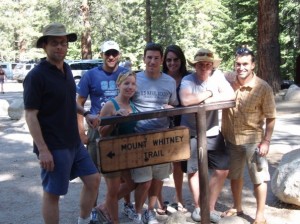 On our way back down, we stopped a few times for photos: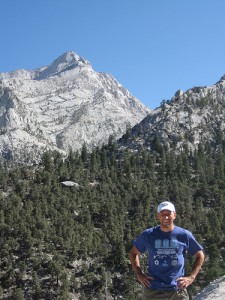 We also got to cheer on a couple people still on the course, including this guy, Bill Bradley, the final official finisher, who crossed the line in 59:11:05. Wow! If it's hard to imagine finishing the race in 30 hours, how in the world does someone stay at it for twice that long?!?
The final stop on the race weekend was the post-race pizza party, where we got to see the race video.
(Evidently, they don't have licenses to the music they used, so the audio has been disabled. You'll have to trust me that the songs they chose were great!)
In sum, in case you couldn't tell, I loved this event. Despite the fact that I wasn't racing, it was one of the best athletic experiences of my life. It was also a great learning experience and a fantastic example of team work. I had a blast with my new friends on our crew and look forward to more racing (or crewing) events with them. Those few days will stick with me for a long time.
So now that that's done, there's one thing left to address. Me. Will I ever do Badwater? It's something I was thinking about before I stepped out of the car at Furnace Creek that first Saturday and something I thought about a lot during, and since, the race. I love endurance racing and testing my limits. And this would definitely be the ultimate test. I don't know. Right now, I would love to have it on the future calendar. I know that, with the right training, I could do it. But it's a really tough race to get into and the qualification standardsare such that I couldn't even realistically apply for at least another few years. There's a lot that could happen between now and then, but it sure is fun to think about. For now, I've got to concentrate on Ironman Canada (36 days) and give some thought to my race calendar and goals for the fall and into 2010. More on that soon!
As always, thanks for reading! I hope you enjoy this reading the blog as much as I enjoy writing it!

(thanks again to Diane for some of the photos! Also, check out badwater.com for tons more pictures and videos if you're interested.)

Run – July 25
Distance: 8.4 miles
Time: 1:02
Average heart rate: 150
Course: West Hollywood/Hollywood
Conditions: Sun and clouds, mid-to-high 70's