Monthly Summary – May 2014
With just about seven weeks to go until Badwater (50 days to be exact), I'm very happy to say that May was yet another really strong month of running for me. I ran more miles in May (393.5) than in any previous month ever and had among the highest amount of total elevation gain I've ever run in a month (58,258 feet). I'm especially surprised about the gain because of all the road mileage I ran and the fact that I never ran Baldy or any of the other big local mountains. I just ran consistently all month and made sure that even my medium and long road runs incorporated a fair amount of climbing.
I've been maintaining my three weeks of "build", one week of "recovery" training schedule and while it's gone really well, I am very very happy that tomorrow marks the end of a three week building block and next week is a recovery week. For my last three weeks, I ran 87 miles, then 92, and depending on what I run tomorrow, this week should be somewhere between 100 and 105. There's no question the mileage is catching up to me – today's run was a total slog, but that's also partly because of a big, long, tough run last night (details below). I'm exhausted and will be very happy to scale it back next week.
It sorta feels like all I did was pound out the mileage, but May had a bunch of running highlights.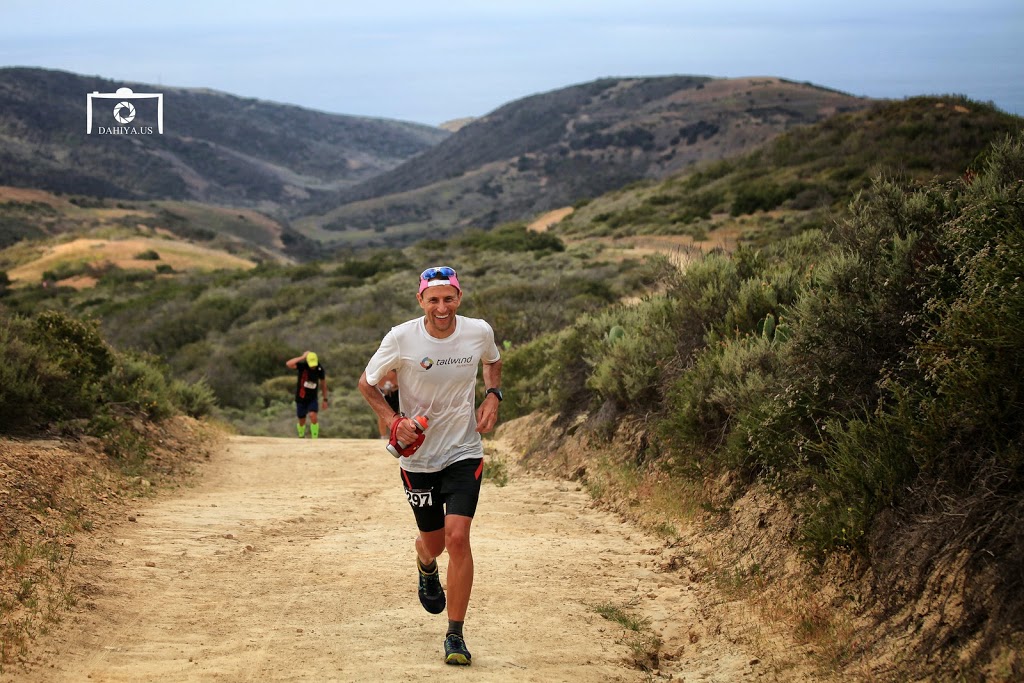 I ran my first race since Brazil and the only one I'll do before Badwater. I decided very last minute to run the Whoo's in El Moro 50k in Laguna Beach. It was a fun test and I ended up with a big 50k PR, and it also reminded me just how hard racing is when I'm trying to push the pace. Even though I suffered mightily during the second half of the race, I'm very happy with how it went. I had fun, got to hang out with some good friends, pushed myself and came out of it injury free and ready for a strong month of running. I also got some pretty damn good photos out of it!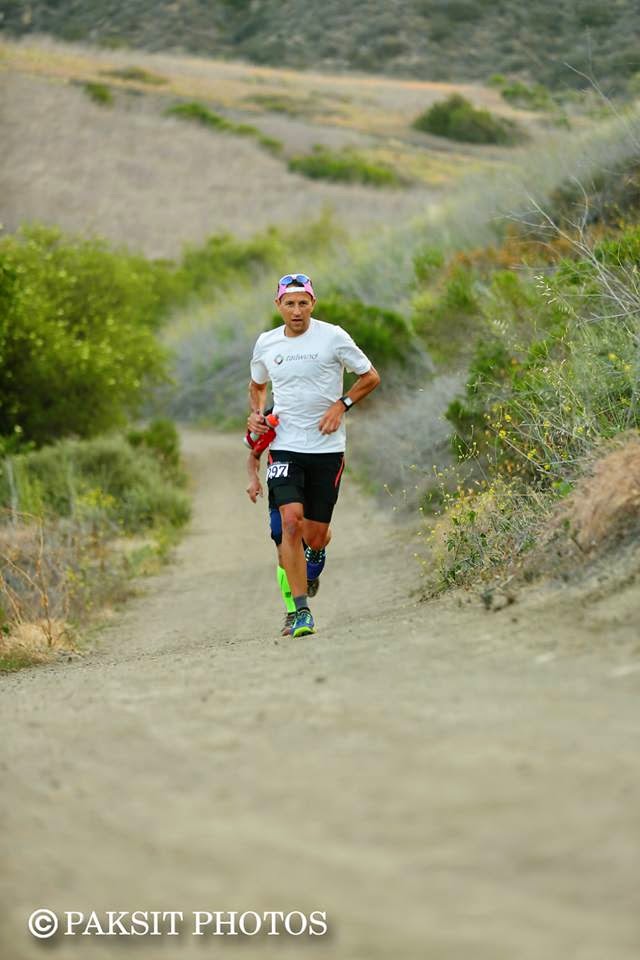 The vast majority of the 32 runs I did during May were my regular staple runs – Temescal/Green Peak, running the roads around Beverly Hills and the Hollywood Hills, Mt. Wilson Trail – but I also did a couple other pretty memorable runs.
Last weekend, I ran 25 miles up and down the Angeles Crest Highway (click for the Strava profile), starting in La Cañada-Flintridge and running up the road to Redbox and then back down. I think it was as close to ideal Badwater training as I can get around here. This year, Badwater starts off with a 23 mile/6,500 feet of elevation gain climb out of Lone Pine up to Horseshoe Meadow and then you turn around and go right back down. While there are plenty of hills around here, I can't think of many that are longer than 7 or 8 miles. The AC Highway (also known as Highway 2) is a steady road climb, with a pretty consistent 5% grade and goes and goes and goes. I ran 12.5 miles up and could have gone considerably further. It was fun and I felt a little badass running up the road that pretty much no one runs, but it was certainly sketchy at times with motorcycles, cars and cyclists flying by. Other than a crazy thick fog for a couple miles around 3,500 feet, the weather was great. I might try the run again in June, but maybe I'll just count my blessings and find other routes.
Last night, Billy, Colin and I ran a route around Mt. Wilson that I did a bunch of times last summer – up Mt. Wilson Trail, down Sturdevant to Chantry, up Upper Winter Creek to the bench and down Mt. Wilson Trail. It's about 24 miles with nearly 8,000 feet of gain. I've done it a fair number of times in daylight but never at night. We started at 6 and didn't finish until nearly 1am. I was pretty tired the entire run and thankfully Billy and Colin weren't pushing too hard either. Those trails are technical and fairly tough during daylight, running them at night made for some tricky footing. We hit Chantry right about the time that Billy and Colin would ideally get there during AC (it's the location of the mile 75 aid station), so they got a realistic view of what those trails should look like during their race. We stopped for a late dinner after the run and I didn't get into bed until close to 4am. I slept in before running today, but was definitely not fully recovered when I hit the pavement today!
The other fun stuff this month was a little more media coverage in the aftermath of my Buzzfeed/Brazil 135 video.
The sports team at Fox 5 in San Diego did a piece on me that aired a couple times in the middle of the month. A producer named Jason Hendrick (who I went to high school with) interviewed me and filmed me running a little around the La Jolla Cove and they also used some footage from the Brazil video. The piece ended up being a little over 2 minutes. They did say that Brazil was my "first ultramarathon" but we all know that's not true and I don't think it matters. It came out great. In case you haven't seen it, here it is:

Josh Spector Ultra Marathon Runner from DIAS Production on Vimeo.
I also did a podcast with the guys at Trail Runner Nation. I had a blast talking with Scott, Don and Sally. We (mostly me) spent well over an hour talking about Brazil, Badwater and my training. It's a fun podcast. In case you haven't heard it yet, here's a link (it's also obviously available on the Trail Runner Nation iTunes page: What is it Like to Run 135 Miles – with Josh Spector | Trail Runner Nation.
Finally, Lauren Montemurri from a website called Action Hub reached out to me for an interview. The piece was published on May 7 and she did a great job capturing why I run. I hadn't heard of Action Hub before she contacted me, but now I'm a regular visitor to the site. They publish a wide variety of stories about all kinds of sports and outdoor activities, including proprietary pieces and interviews, cool videos they find from around the internet and product reviews. It's sort of an edgier, updated Outside magazine.
Here's May:
Swim: 7,400 meters
Cycling (outdoors): 0 miles
Cycling (indoors): 0 (hours)
Run: 393.5 miles
Total Run Elevation Gain: 58,258 feet
Strength Training/Yoga: 3 sessions
Approximate monthly total training/racing time: 67.3 hours
Weight: 155, which feels about right
Looking ahead to June, I'm excited for another big month before I start tapering in early July. Billy, Colin and I are headed out to Lone Pine for a recon/training weekend on the Badwater course. Elizabeth and I are going to New York for a few days – her to see her parents and me to visit my New York office. I'm going to continue to get to the sauna on a regular basis and will keep swimming once or twice a week. And I have some more Badwater logistics to still take care of – team shirts, renting a van, getting the car decals, etc.