Monthly Summary – May 2016
Chase will be 4 months old in 2 days. And oh, man, this kid is awesome.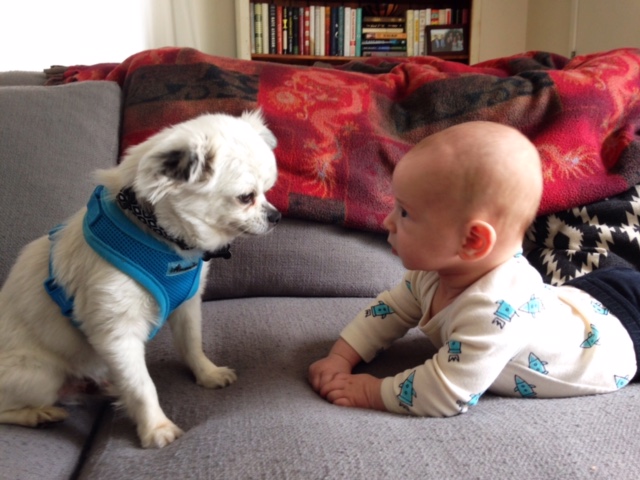 Gus is still not sure, but Charlie and Chase are becoming good buddies!
He's a lot of work (duh) but no matter how tough of a night we have, when I go to get him out of his crib in the morning and he flashes that smile at me, I'm done. Melted.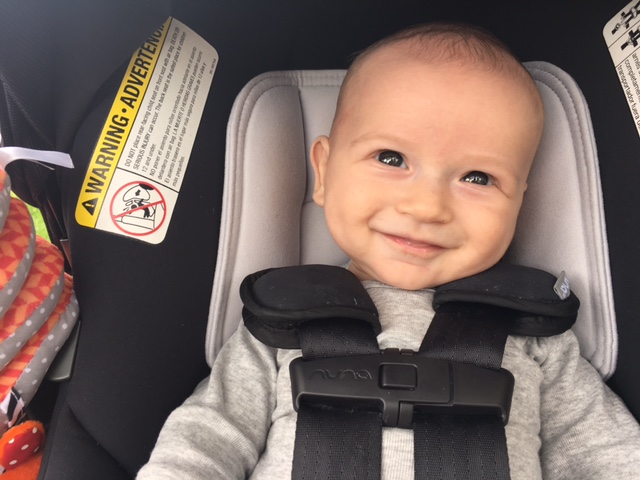 Our big challenge this month was that he learned how to roll over. And that means that he spends a good portion of the night rolling and rolling all over his crib. Sometimes he gets "stuck" next to the side of the crib, sometimes he gets an arm pinned under his body, and sometimes he just doesn't like where he ends up and can't figure out how to get out of it. And then he starts crying and then screaming. Usually, once one of us goes in there and repositions him and gets the pacifier back in his mouth, he goes back to sleep, but there have also been a couple nights where he's been up screaming for a long while.
Elizabeth and I got dressed up and went out to a wedding the other weekend. My parents came up to babysit. I think it worked out well for everyone!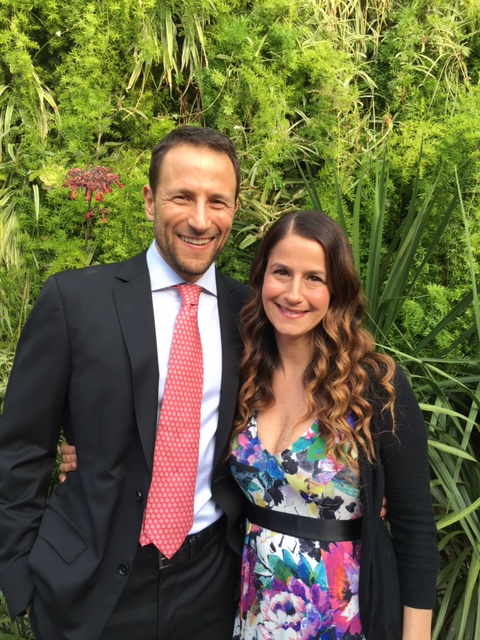 Somehow, I've been able to maintain consistency with my running. Continuing my schedule from April, I ran four days each week – 3 times during the week and once on the weekend.  I ran 153 miles in May, which is more than I initially assumed I'd be able to be running at this stage in Chase's life. A huge contributing factor to my running consistency is that except for the hiccups in Chase's schedule, my life has been in a rhythm: work 5 days a week, busy weekends, not much social activities on weeknights and very little travel or schedule disruptions. That's going to change in June, when Elizabeth and I have a busier social schedule, we have a little bit of travel and I have some work events and seminars that are sure to throw everything up in the air. I'm hopeful that I'll have another good month of running, but won't be surprised if I'm not able to run as much as I have been.
I feel pretty fit and strong, but with a long run this month of "just" 15 miles, I'm definitely not in ultra shape. And that's OK because I still don't have any races on the calendar or even really in mind. I still have this thought that I might do some kind of race in the fall, but I haven't even looked at calendars yet.
For my main weekday runs, I'm continuing to explore the Hollywood Hills. In order to find routes, I've been using Strava's Segment Explore function. I think I've run most of the Strava segments between Griffith Park and Beverly Hills (east to west) and between Mulholland and Santa Monica Blvd (north to south). There are some solid hills up there and I've been finding great ways to connect roads and neighborhoods to regularly create new routes with varied terrain and even a couple trail sections. I also did one actual trail run a couple weeks ago. Mike Ireland was in town and I met him at Westridge early on a Sunday morning. It was nice to get out there and to catch up with Mike and it was great to just run with someone else for the first time in a while, but it did remind me how much more efficient it is to just run from home!
May was the second month in row without any swimming. Between Chase and work and trying to spend a little quality time with Elizabeth, I just can't figure out how to fit it in right now. Maybe I'll get in the water at least once in June?
In May, I continued with my simple strength work but added in some body-weight legs exercises. My goal was that every other day I'd do pushups and bicycles and the other day do planks and legs. It didn't always work like that, mostly because there were days that I struggled to do the scheduled leg exercises, but over the course of the month, I made up for the days that I missed and hit my overall goals. I ended up doing a daily average of 58 pushups, 146 bicycles, 55 leg reps and 3:12 of planks. Those are down from last month, but that was intentional because I was roughly alternating days between exercises. For June, I think I'll continue what I did in May and hopefully beat May's numbers.
I finished Stephen King's 11/22/63 at the beginning of the month. I really enjoyed it. With about 100 pages to go I started to get worried that maybe I would be disappointed with the ending, but I really liked what  It is like 900 pages long but I just shouldn't have doubted Stephen King. I read two other books in May. Both were mysteries/thrillers and neither was all that great. Harlen Coben's Fool Me Once was decent and reminded me of some of his older books that I really enjoyed, but in the end, I just didn't care that much about the main characters, so I struggled to get too caught up with the suspense. I also read Violent Crimes, by Phillip Margolin. It was a quick, easy read, but the story is really formulaic and not that interesting or even that suspenseful. His books and this series get good reviews on Goodreads, so maybe it's just me, but I doubt I'll any of his others any time soon. I decided to read these quick thrillers because of my limited time and limited reading attention-span, but I'm ready to read something a bit more substantial. Connect with me on Goodreads!
Here's May by the numbers:
Swim: 0 meters
Cycling (outdoors): 0 miles
Run: 153.3 miles
Total Run Elevation Gain: 21,374 feet
Strength Training/Yoga: 3 sessions
Approximate monthly total training time: 23.3 hours
Weight: No idea. I'm sure I'm a few pounds heavier than what I would race at, but since I'm not racing…