Mulholland 85k – Run Recap
A few years ago I noticed that Mulholland Drive/Highway runs continuously from Hollywood all the way to the ocean. It starts more or less at the 101 and Cahuenga (near the Hollywood Bowl) and winds through the Hollywood Hills, the hills above Beverly Hills, Bel Air, across the Sepulveda Pass, onto "Dirt Mulholland" between Brentwood and the Valley, then back on roads through Calabasas, Agoura Hills, the Malibu Canyons and finally a long descent through Leo Carrillo State Park to the beach. The entire route is 54 windy, moderately hilly miles. I thought I could run it self-supported in 9.5-10 hours.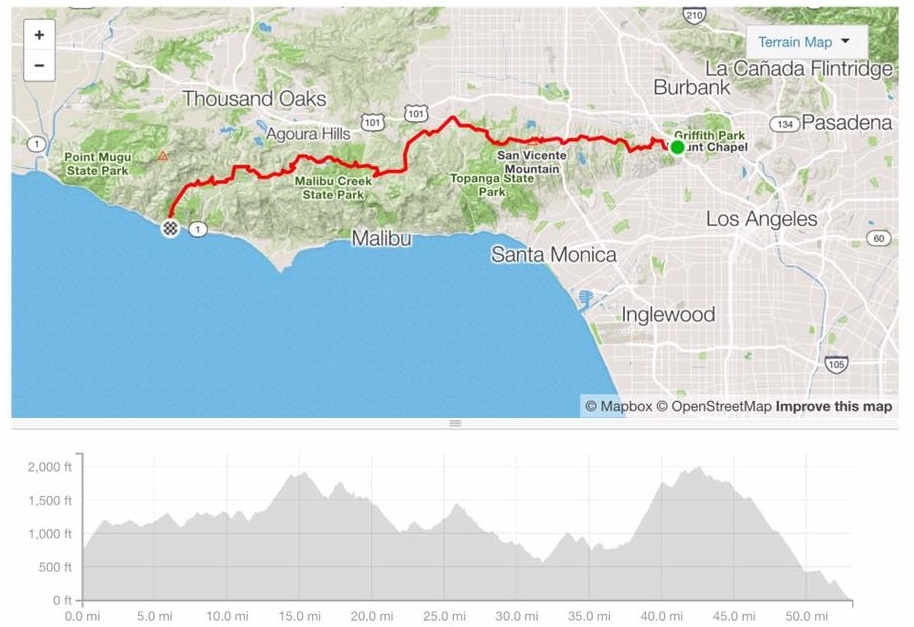 I had trouble finding the time to fit it into my training or life schedule. Earlier this year, I decided that with all the hilly road running I've been doing and the fact that I'm not signed up for any races, this would be the right year for me to do it. And Elizabeth's parents are in town right now and were able to help her with Chase, so last Sunday seemed like a perfect day for me to be gone all day.
For some reason, I wanted to do it solo and self-supported. I had mapped out the course pretty well (it's just one road after all) and I had run the first 25 miles a few times in out-and-back sections. I didn't run any of the second half of the route but I've biked most of the second half before and thought I knew what to expect. There are water fountains pretty regularly in the first half and then a Gelson's at mile 23 where I could get cold drinks and any snack I needed. The second half is a bit more dicey, but I saw there were places for water at around miles 30, 37, 38 and 42. I figured that would be frequent enough. And that was my main mistake.
I have two hydration packs but no bladder (one broke and one is lost). But I figured that between a 22 oz. handheld bottle and a collapsible 17 oz. soft flask, I would be fine. I loaded up a pack with plenty of Tailwind and some Trailtoes in case I needed it for my feet or any chafing.
At around 5am, I jumped in an Uber from home and was at my starting point 15 minutes later. I started running at 5:25.
About 3/4 of a mile into the run, when it was still pitch-black dark out, I stepped off the curb to make sure I was well out of the way of an incoming car and rolled my left ankle. For a couple seconds, I thought it might be an issue or that my run might have been over before it even began, but the pain went away very quickly and it never bothered me again. Phew.
The first half of the run was great. I felt smooth and was running easy. The temperature was comfortable. I stopped a few times to refill my bottles along the way, including at the Nike tower at the top of Westridge. I ran into Travis and Ben there and ran with them on Dirt Mulholland for a couple miles before they turned off and headed a different way. Then, I got really lucky and ran into Keith on the trail. I haven't seen him in a while, but when I told him what I was doing, he immediately offered to pick me up at the end. I had planned on taking an Uber home, but this was huge. Thanks again Keith! Then, before I was off Dirt Mulholland, Elizabeth's cousin Barry found me and I stopped to talk with him for a few minutes. It was a great first part of the run and I was still pretty easily on pace to finish in around 9.5-10 hours, even accounting for a fair amount of slowing down in the later miles.
At around mile 23, I got to Gelson's and stopped there for a coconut water and some cold water for my bottles. I was still running well, but was beginning to feel the miles. And it was starting to get hot. And I still had 31 miles to go. And there was some pretty solid climbing over the next 20 miles. And this was the part I wasn't familiar with.
I continued moving pretty well for a while, but the heat was getting to me and slowing me down. And slowing down meant there was more time between water re-fills. I found a couple extra places to get water, including a horse stable and a random spigot.
The real climbing starts at around Malibu Creek State Park (mile 32ish) and continues pretty consistently for about 10 miles, with some nasty stretches in there. It was definitely in the mid/high 80s and I'm sure in some places it was hotter than that. And there was very little shade. I ended up hiking much more of this section than I'd planned. I stopped for water at the Old Place Restaurant (mile 37) and at the Rock Store (mile 38).
The nastiest climb of the day starts right after the Rock Store. It's a fairly famous cycling climb, appropriately called the Rock Store Climb. The first part is 2.5 miles of switchbacks that climbs nearly 1,000 feet, then there's a false summit and a little descent, then another 400 feet of climbing over two miles. Of course there were a bunch of cyclists out there and tons and tons of motorcycles and cars flying around the turns, but there such as hell weren't any other people running or walking! About 2/3 of the way up, I stopped to talk to the Rock Store Photos photographer (Paul?) and he topped off my bottle. I didn't think it was a big deal at the time but that water helped me out a ton getting through the next few miles.
I was content to hike those climbs, figuring that I would be able to run most of the final 12 mile descent (dropping 1,800 feet to the ocean). But it kept getting hotter and I was running out of water. At mile 42, I stopped at Malibu Wines. Stumbling through all the people dressed up for their Sunday wine picnics when I was sweaty, dirty and dehydrated was pretty funny. I bought a big cold bottle of water, refilled my bottles and chugged the rest before heading back out to try to finish the thing.
By the time I got to the top of those climbs, I was pretty much spent. I was rationing water, not taking in many calories (because I didn't have much water to mix the Tailwind with!) and feeling a bit nauseous. I ran a little bit, but my calves started cramping every time I ran. So I walked. Downhill for most of the final 10 miles. I kept looking for the ocean, but you don't get even a glimpse of it until more than 50 miles in.
When I got to Leo Carrillo, the first thing I did was drink about a gallon of water from water fountain. Then I touched the ocean and took the below picture.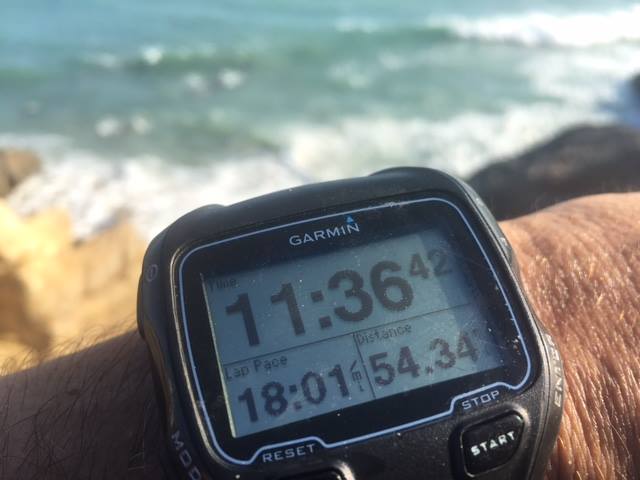 I found Keith and some of his friends finishing up afternoon at the beach. Keith had a chair and lemonade and snacks for me. And drove me home. Savior.
A few notes and other thoughts:
Here's a link to my Strava data from the run.
I didn't have enough water and that wasn't safe, but I never felt like I was actually endangering myself. I passed by a lot of houses and if I needed it, I could have rang a bell and asked for water or snuck around to find a hose. Had I seen anyone outside, I would have asked for water. There were plenty of cars driving by and I could have flagged someone down if I really really needed to.
There were a few times in the 30s where I questioned WTF I was doing. I never would have stopped though; mostly because it never got even close to that bad and if I had stopped I would have felt compelled to go out and try again!
Doing this run self-supported was fun and I love being out there by myself, but if I were to ever do it again, I'd would definitely make sure there was either water dropped a few places in the second half or a "crew" with water at a couple points.
I think that doing the run the reverse way would be somewhat easier. The climbing is about the same, but you would get the biggest climbs out of the way in the first half. Also, the lack of water availability in what was second half for me would be the first half of the run, hopefully before it was so hot and before it got painful. On the other hand, you'd finish at Cahuenga and the 100, which isn't the least bit interesting…
Some parts of the roads are pretty sketchy, especially since many of the turns are blind and it's essentially a motorcycle and sports car playground out there. Some of the motorcycles lean far into the turns and cars are crowding the small shoulder too. I didn't have any close calls, but I was always on guard.
I wish I'd taken a few more photos, but I'm not good at doing that. Oh well.