Monthly Summary – January 2016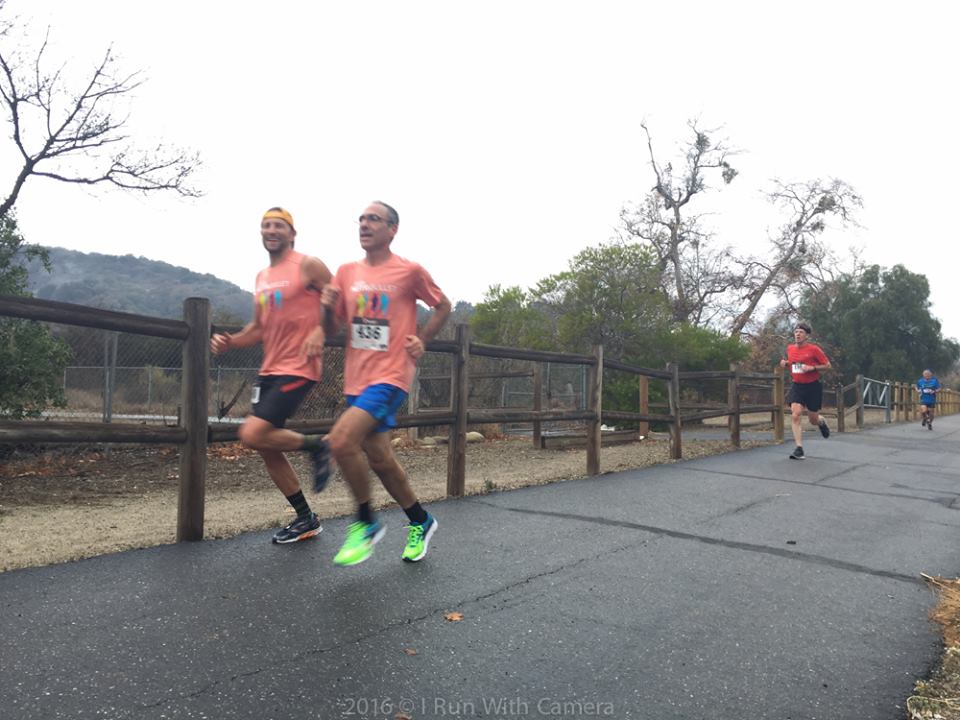 (Ventura Half Marathon. PC: I Run With Camera)
Our baby boy decided he's warm and cozy where he is, so at this point, we'll be having a February baby.
January was a good and busy month around our house. We spent a fair amount of time cleaning up, cleaning out, organizing and setting up our place to welcome the little guy. Most of our clutter is gone and it's been replaced with much nicer-looking baby-related stuff. With the house projects and work, our days and weekends were pretty packed, but I did find/make time to get in some decent training. Between weekday morning runs in Griffith Park and Los Liones with Chamoun and our Team NutriBullet weekend practices (and some other runs mixed in here and there), I ended up running 186.8 miles this month, my biggest month since July 2014 (the month I ran Badwater).
On January 10, the team ran the Ventura Half Marathon. I definitely wasn't in half-marathon racing shape, so my plan going into the race was to run the first half of the out-and-back course at a steady pace and then take it super easy on the way back and just support the team members on the course. Then, right before the gun went off, I was standing with Steve Schuman and his plan was to run the race a little harder and more steady than I was thinking. So, I decided to run with him for at least the first half. The course is a steady low-grade climb on the way out (about 270 total feet of gain) and then you turn around and run back down. Steve and I went out at a decent pace, running around 7:05-7:10 pace. It felt easy and we talked the whole way. Until the half-way point turnaround, I was still considering easing up on the way back, but then we made the U-turn and just kept going. We sped up a bit on the way back, doing 6:50-ish/mile. We were still talking most of the way. The last mile or two got a little tough for me and I probably would have slowed down if I was running on my own. In the end, I ran 1:33:09, which is a perfectly decent time, but about 7 minutes off my PR, set at that same race in 2012.
Every month for the past year or so, I've been checking in on a few specific goals. Here's how I think I did in January.
Eat better.

I'm still not eating great. Not a lot of crap, but I'm just not as focused on my diet as I'd like to be and that causes me to eat pretzels and crackers instead of having fruit or a small meal. I did better this month about avoiding sweets. That is a continual struggle for me.

  

Focus on getting better sleep. 

This month was a better one for sleep than November or December. I don't think I was sleeping any more or any better, but I felt more in rhythm and that helps me feel better even when I'm not getting a ton of sleep.

Continue swimming, yoga and strength training on a regular basis. 

 I swam, but not nearly as much as I had been in 2015. Still, 35,000 meters is a lot more than I was swimming in a month in any year prior to 2015. I was swimming 1-2 fewer days per week and definitely noticed myself getting a little sluggish in the pool. I think my sweet spot for feeling really good in the pool is 4-5 swims per week. Anyway, swimming is about to take a big backseat so I'll just have to hope I can maintain fitness! No yoga – didn't even consider it really. Four strength sessions. I'm hoping that when the baby's here, I'll be able to do more frequent strength training since it's easy to do at home.  

Run easy. Maybe hit the trails for some easy training. My biggest month of running since July 2014. I ran a lot during the week with Chamoun, both in Griffith Park and the Santa Monicas. Each weekend, I got out for a long run with Team NutriBullet. The Ventura Half was a fun race and hitting the trails with Chamoun twice a week has been a blast, but I think my favorite run of the month was the 15 mile Temescal, Backbone, Will Rogers, Rivas Canyon loop I did by myself last Friday. I haven't done that loop in forever. I bonked a bit towards the end, mostly because I thought the loop was more like 11 miles and only brought that many calories. Oops. I guess it has been a while since I did it.  
Be positive. 

Yep! Mostly. This month was a pretty easy one to be positive about. 

Read at least one book, hopefully two. I read two books this month, Symphony for the City of the Dead: Dmitri Shostakovich and the Siege of Leningrad, by M.T. Anderson and Savages, by Don Winslow. I really enjoyed Symphony for the City of the Dead. I feel like I know a fair amount about World War II, but I didn't really know much about the siege of Leningrad. I guess we focus on events that directly affected the US and then the Holocaust and since the siege of Leningrad only directly affected Russians and Germans, it's not a priority in U.S. schools or popular media. This book told about the siege through the life and art of Russian composer Dmitri Shostakovich. I'd actually never heard of him before reading the book, but since then I've been using his symphonies, especially the Seventh/Leningrad Symphony (the one featured in the book), as background music while I'm working. As a bonus, I've also seen his name or references to him come up in a few crosswords! Savages was good, but I didn't like it nearly as much as The Power of the Dog or The Cartel, the other two Don Winslow I've read recently. The violence is just as crazy and the plot feels relatively realistic, but the characters weren't as well developed or as interesting. Connect with me on Goodreads!
And this time I mean it. Before I write in this blog again, we'll be parents. I've written about a lot of great adventures in the blog, but I doubt any of those will even begin to compare to the one that Elizabeth and I are about to start. I'm excited beyond words to introduce him to the world and to introduce the world to him.
Here's January by the numbers:
Swim: 35,569 meters
Cycling (outdoors): 0 miles
Run: 186.8 miles
Total Run Elevation Gain: 19,905 feet
Strength Training/Yoga: 4 sessions
Approximate monthly total training and racing time: 45.2 hours
Weight: 165 pounds