Monthly Summary – November 2016
I actually ran a race! It was my first race since the Ventura Half Marathon all the way back in January. We had originally planned to go on our usual trip to Wainscott for Thanksgiving, but when that got cancelled (see below), I decided to sign up for the Xterra Topanga Turkey Trot 15k. It's a popular local race and one that I've heard a lot about over the years but since we're never in LA for Thanksgiving, I'd never had a chance to run it. I've been running consistently and feeling fit and figured that I could push the pace fairly well for 9 miles on those trails. To make the race more "interesting", I decided to meet up with some friends at Los Liones and run from there to the start line as a 10k (1,600 feet of climbing) "warm-up" for the race. The run to the start with Michael, Megan, Billy, Keith and Kelley was fun. I ended up getting to Trippet Ranch a bit too early, since the start was delayed by 20 minutes.
Here's the elevation profile:

I was chatting with a couple friends before the start and had to weave through a bit of a crowd over the first couple hundred yards. I pushed my way up the long 2+ mile climb up to Eagle Rock and at that point figured I was somewhere near the bottom of the top 10. Right after Eagle Rock, we dove down onto the Garapito Trail, which is by far the highlight of the course. It's a twisty, turny, windy, up and down, single track trail with low branches and some tight 180 degree turns that takes you down into a canyon and then back up to the Santa Monica Mountains fireroads a couple miles later. For most of this section, I was leading a group of three, with the other two guys right on my heels. Those guys seemed to be better descenders than me but I was gaining a bit of ground on the climbs. I would have been willing to let them pass if they really wanted, but uncharacteristically I wanted to stay in the lead. That meant I had to work. For most of the descent into the canyon, we were running 6:15-6:30 pace, which was fun but challenging on that trail. During the single-track climb out of the canyon and continuing on the fire road climb, I began putting a little distance between me and the two guys behind me. I knew the race would end with a long descent and figured I needed space if I was going to avoid getting caught by them. At times during Garapito and the fire road, I could see two guys ahead of me, but they had a healthy lead and I didn't feel like I was making any progress gaining on them. During the final mile of the descent to the finish, I looked behind and saw the two guys back there. With a half mile to go, one of them (Jeff Dinkins) blew past me and literally disappeared. I was running 5:40ish pace and he still crushed me, putting 15 seconds on me in that last 1/2 mile. Dammit. But I wasn't going to let the other guy catch me. So I picked up the pace a bit and held him off. I finished in 1:12:05, good enough for 9th overall (of 179) and first (of 20) in my age group. I'm really pleased with how the race went. I would have rather not gotten passed near the end, but I ran well and felt good for the whole thing. I don't have any photos from the race yet, but if I find any, I'll post them. After the race, I ran and hiked back to Los Liones. That was a lot less fun than the way there!
Other news:
The Sunday after Thanksgiving, Elizabeth's Grandfather Sam passed away. He was almost 95. It had been a rough couple months for him and he died peacefully at home. We made a last minute decision to cancel our trip east for Thanksgiving in order to spend a little extra time with him. We'll miss his smile and jokes and love for sure. I'm really thankful he got to meet Chase.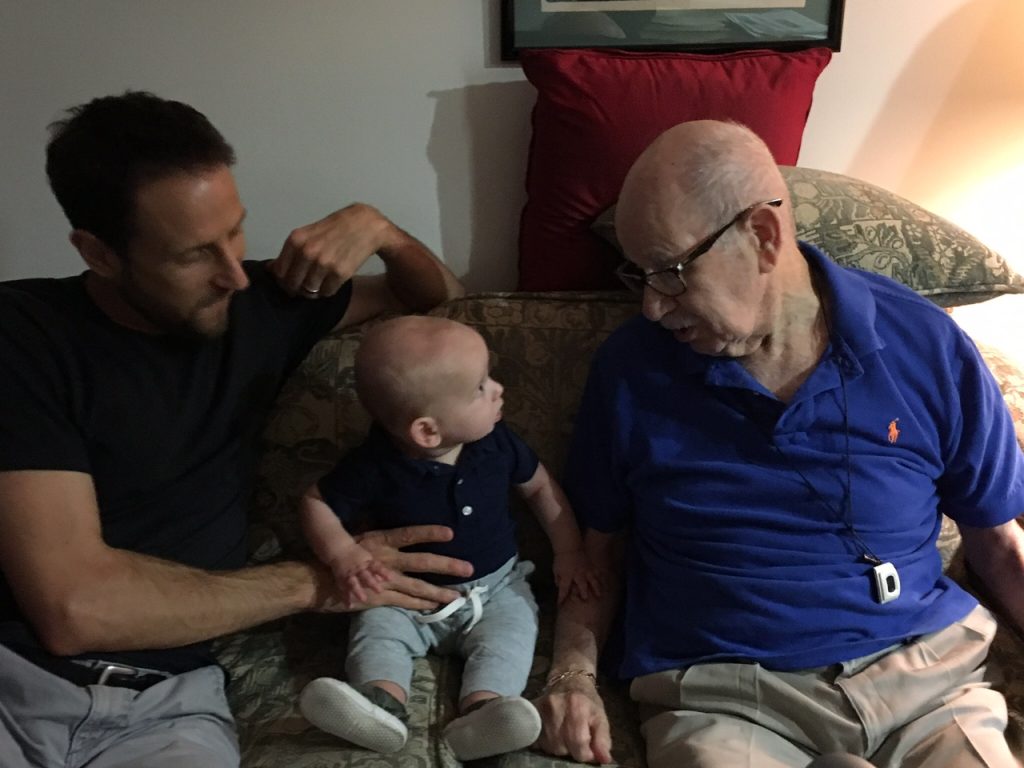 I was consistent in my running, getting out 4-5 times each week for 40-50 miles. I met up with Michael at Los Liones about once a week for the climb to Parker Mesa. We got some spectacular sunrises, including this one: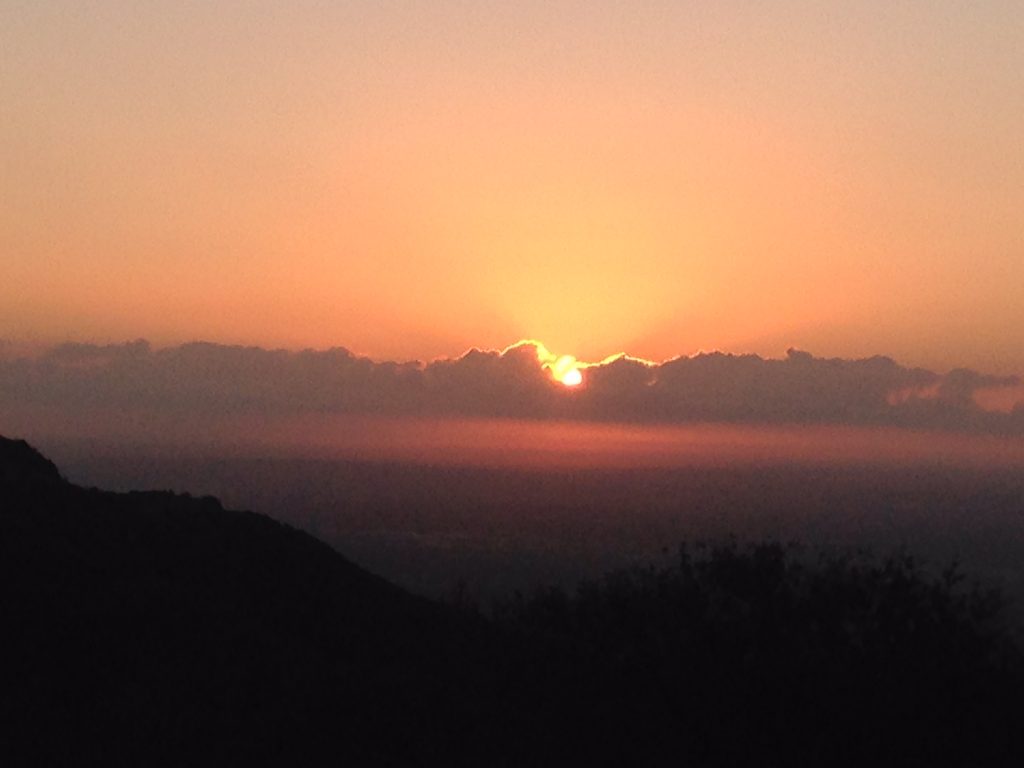 I only read one book this month and it took me way longer than it should have. I read The Trespasser, the sixth book in Tana French's Dublin Murder Squad series. I've enjoyed all of Tana French's books and while this one was pretty good, it was one of the weaker ones in the series. I liked the main character, but the story was a bit boring and the middle part of the book was too drawn out. It was also a really busy month so I struggled to find time to sit down and really make an effort to get absorbed into the book. What to read next?? I have about a 100 in my Goodreads "To Read" folder and a bunch of those look really good, but I'm always open to suggestions. Follow me on Goodreads!
Here's November by the numbers:
Swim: 1,097 meters (one measly swim)
Cycling (outdoors): 0 miles (I should just stop tracking this, but still remain hopeful that I'll ride again someday…)
Run: 182.8 miles
Total Run Elevation Gain: 32,079 feet
Strength Training/Yoga: 1 measly session
Approximate monthly total training time: 29 hours
Weight: high 150s?