Monthly Summary – November 2015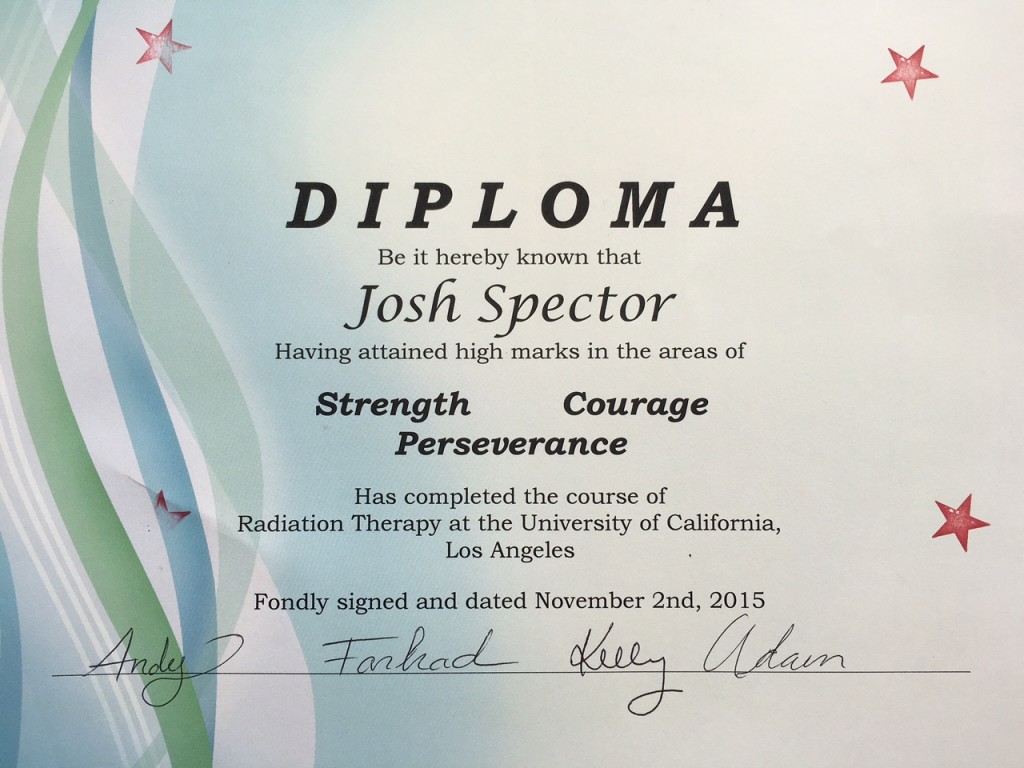 I finished radiation on November 2. Putting that behind me was a huge relief. As I wrote last month, physically, it wasn't that difficult on me (other than fatigue and a sour stomach toward the end, I didn't really have any symptoms), but it was a huge mental drain. Trying to fit the rest of my schedule around my daily trip to UCLA was stressful and just being in the hospital every day is tiring. I started feeling better (physically and psychologically) pretty much as soon as my treatments ended. Getting those hours back every day meant that I could get back into my routine and thus I could train more consistently and not be so worried about fitting it around or into the rest of my chaotic schedule. And the best thing of all is that now, about 4.5 months removed from my surgery, I barely even think about it. I'm done with treatments or follow-up until an MRI and check-up in February.
In November I actually ran two races. These were the two shortest races I've done in years and years and years.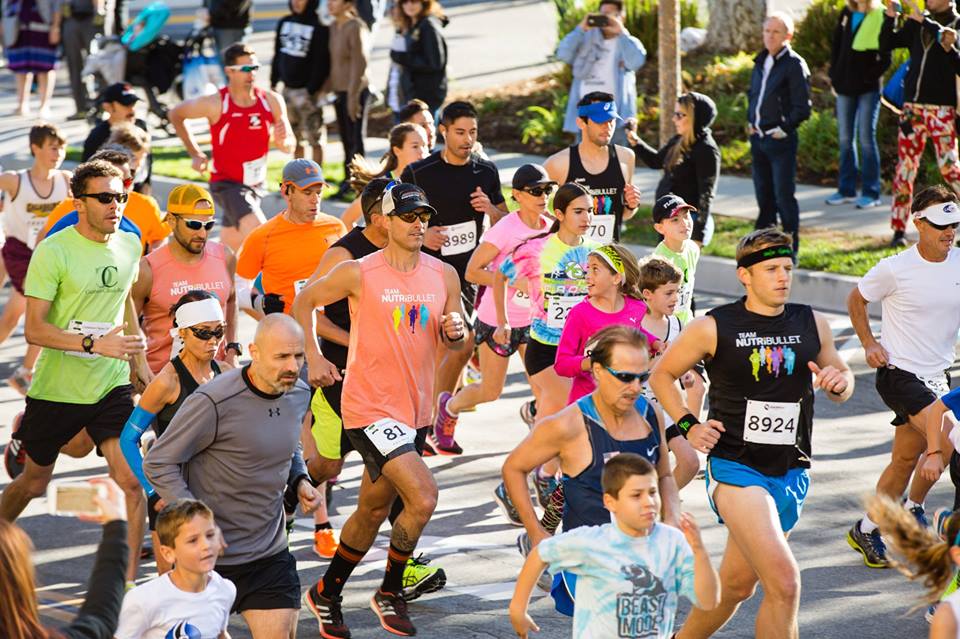 The first was the Calabasas Classic 5k (race report here and photo above, me in my yellow PMR hat behind Jimmy) and the second was the Montauk Turkey Trot (6 miles). Both races were fun and exciting and went pretty well, but I definitely do not know how to race those types of distances (although whether or not I actually know how to race any distance is an open question as well).
I ran 20:25 in the 5k and was happily surprised with my time and effort. Although I've been getting back into running and I feel like my endurance is coming along OK, I haven't worked on speed or turnover at all. I was also just one week removed from radiation and I wasn't sure if my body was still recovering from it. So I went into the race without any real gauge about how fast I could run and whether I could actually sustain a "fast" pace for more than a few minutes. I was pleased that I went out at about 6:35/mile pace and stayed right around there for most of the race.
My official time in the 6 mile Turkey Trot was 40:00.6. That was good enough for 11th place out of about 100 runners and second in the 40-49 age group. (I did the 6-mile race one other time about four or five years ago. I can't remember what my time was.)  The Montauk Turkey Trot is a two loop race around a pond right near the center of town in Montauk (they also offer a one loop/3 mile race). The first 1.5 miles of each loop are relatively flat, then there's a decent little climb, a nice descent, another climb and descent and then it's mostly flat to the end of the loop. This year, the weather was pretty much perfect: clear, high 50s, dry and just a little bit of a breeze. I went out a bit too fast and then settled into a semi-comfortable pace right around 6:40/mile. I got passed by the lead woman and one other guy about 1.5 miles in and tried to stay with them but then let them go. I kept them in sight for the rest of the race and was thinking that I'd try to make a move to catch them, but never did. They finished 3o seconds ahead of me. With a little more than a mile to go, I passed one guy, then he passed me back pretty quickly and finished five seconds ahead of me. In retrospect, I made that move too early. It was a fun race and I feel like my effort was decent. With a little more mental toughness and confidence, I'm sure I could have finished either ahead of or much closer to those two runners who I wanted to catch. Next up is the Santa Monica-Venice Christmas Run 10k this Saturday. It's a flat course and I'll have teammates and other friends around to help push. Let's see what I can do there.
After the race I started talking to this guy named Chris Marino. He's a triathlete and runner from New Jersey. We talked for a while – it turns out he's done a lot of the same races that I used to do when I lived in NY and he's signed up to do the Survival of the Shawangunks (SOS) race next year. It reminded me how fun that race is. If I still lived on the east coast and/or still rode my bike, I would definitely want to do that one again! Chris and I ended up going for a run on Saturday too.
In November, I also started getting back on the trails pretty consistently. I met Michael Chamoun at Griffith Park at least once each week for a morning run. Last week we ran into Howie Stern out there scouting locations and getting ready to shoot a race the next day. He got this pretty rad photo of the two of us.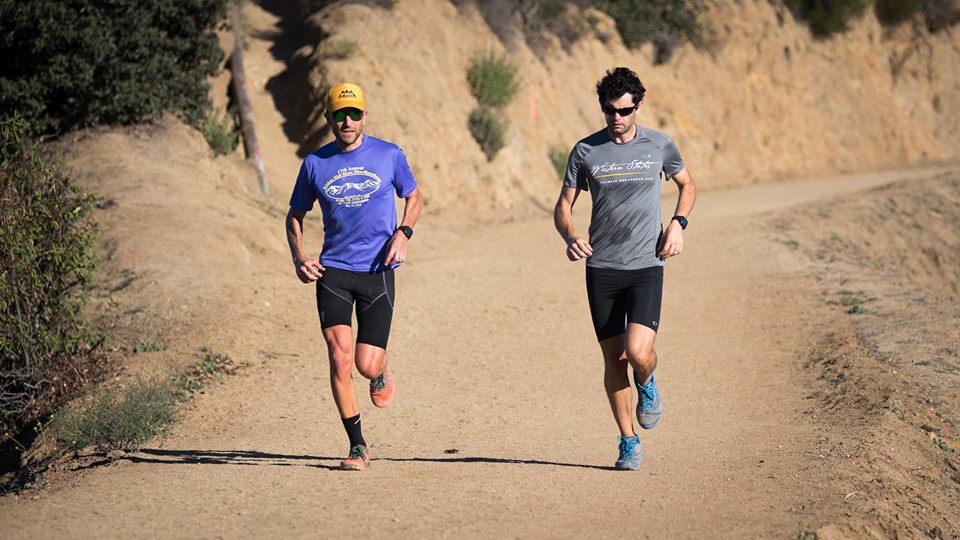 Elizabeth and the dogs and I made our annual trip out to Wainscott for Thanksgiving. The weather was great and we had a nice and pretty relaxing trip. The beach was awesome on Thanksgiving.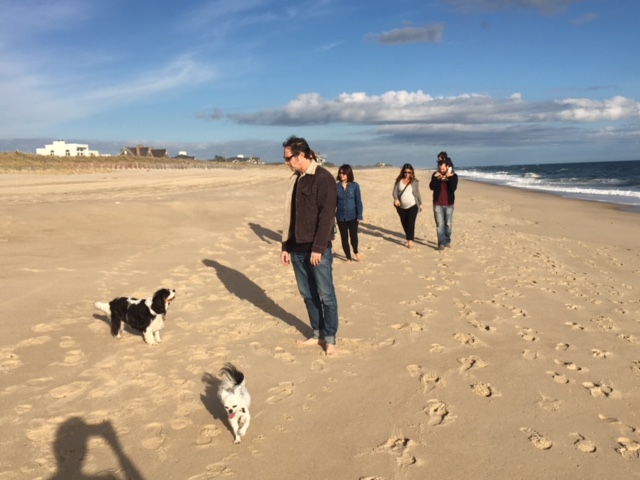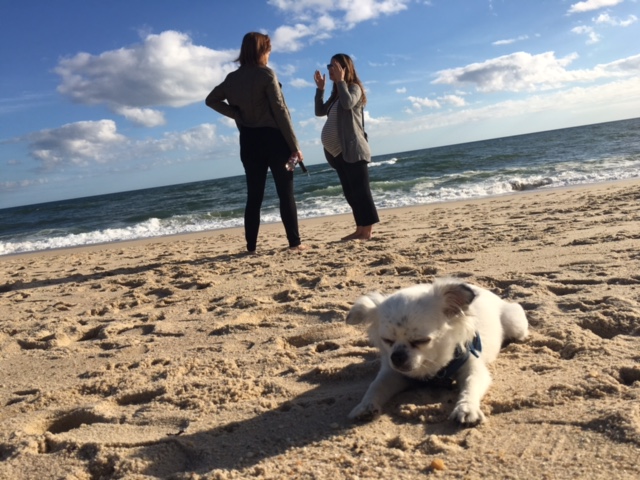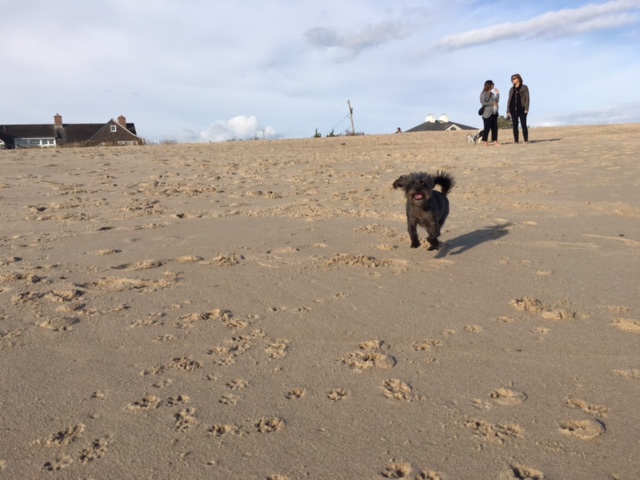 Here's my monthly evaluation based on the monthly goals I set earlier in the year. As before, the red is my evaluation of how I feel I did this month.
Eat better. I was doing great. And then we flew to New York for Thanksgiving and all hell broke lose. Chips, crackers, brownies, cookies, pies, pretty much anything with lots of salt and/or sugar found its way into my mouth. I guess it's OK for there to be a Thanksgiving exception to good eating habits, but this got a little ridiculous. I usually feel very much in control in my own kitchen, but let me out and I lose all self-control. 

  

Focus on getting better sleep. 

I'm sleeping well, but Elizabeth is NOT and therefore, I'm actually not sleeping that well either. 🙂

Continue swimming, yoga and strength training on a regular basis. In last month's Monthly Summary, I wrote that it was going to be "pretty much impossible" for me get to 500,000 meters of swimming by the end of the year. After a little goading from Gal, I decided to give it a shot. This month I swam 51,840 meters, which means I've swam 448,302 meters this year and leaves me with 51,698 meters to swim in December if I'm going to make my goal. It will be difficult, but I did it in November (and April and May), so it's definitely not impossible. The key is obviously going to be consistency. If I can get into the pool 4 times each week, it'll be easy. If I miss even more than a couple swims, I'll be in a position where I'll need to get in some huge days at the end of the month. (And of course, if the baby comes early, all bets are off.) I only did my strength workout once, which is just plain dumb. And no yoga. 
Run easy. Maybe hit the trails for some easy training. October was a warm-up and I really got back into running in November. Coaching and running with Team NutriBullet is helping me, both because of the weekend training run and because I want to get in my weekly runs in order to feel good at the weekend run and do well at our training races. And being able to meet Chamoun at Griffith helps get me out of bed and moving in the morning too. I miss getting out to the west side for runs and maybe I'll try to get back into that in December a bit. 
Be positive. 

Yep! 

Read at least one book, hopefully two. I only finished one book this month, Barbarian Days: A Surfing Life, by William Finnegan. It's a memoir about his life as a surfer and world adventurer. Even though I'm not a surfer and have never lived a life like what he experienced, the book was fun. His writing is great and there's a good lesson in there about chasing what you love. I'm reading Seveneves, by Neal Stephenson right now. I'm about half-way into it, and really digging it so far. Connect with me on Goodreads!
Here's November by the numbers:
Swim: 51,840 meters
Cycling (outdoors): 0 miles
Run: 127.6 miles
Total Run Elevation Gain: 13,863 feet
Strength Training/Yoga: 1 session
Approximate monthly total training and racing time: 38 hours
Weight: 159.5 pounds